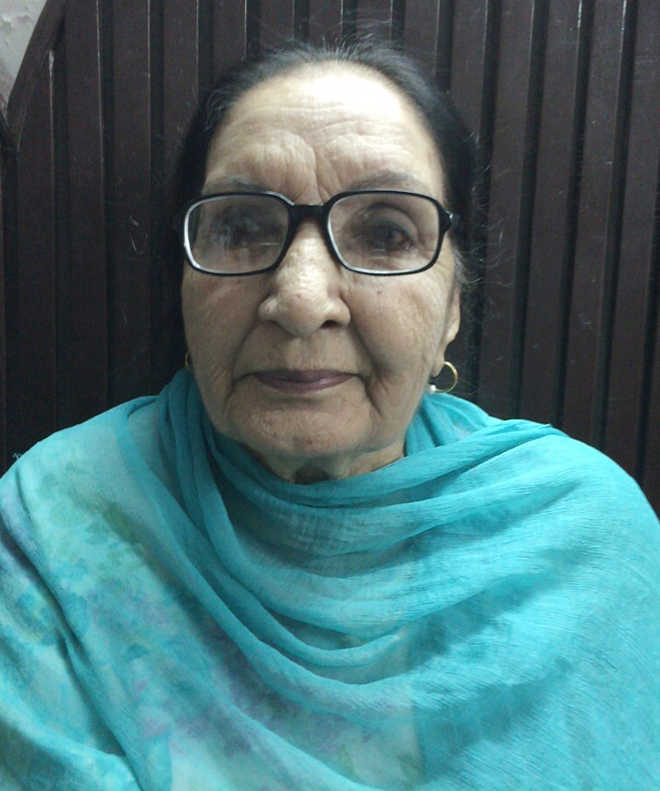 Gagan K Teja
Tribune News Service
Patiala, October 13
Joining the league of prominent writers and poets who have renounced their awards over the "threat to free speech and communal disharmony" in the country, eminent Punjabi writer Dalip Kaur Tiwana, 80, today announced to return her Padma Shri, the fourth highest civilian award that she received in 2004.
Tiwana, who retired as a Punjabi professor from Punjabi University, told The Tribune that she was deeply hurt and pained at the way all voices of dissent were being crushed by political leaders. She said it was a threat to not only writers but also the identity of India.
"Writers are sensitive, cautious and can express their feelings adequately. I think it is high time we express our anguish over the 21st century India, which is going backwards rather than progressing," she said.
She claimed that returning awards would apprise people of the current situation in the country. "Intellectuals will at least give a thought as to why so many writers and novelists are returning their awards," she said.
"I was shaken by the atrocities on Sikhs in 1984 and have been repeatedly expressing my anguish through my writings but the recent turn of events in the country, including murder of decorated writers MM Kalbargi and Narendera Dabholkar and killings of innocent people in the name of religion, has actually forced me to return my award. I realised that this was not the time to take pride in the awards I was conferred with, but to stand with the crowd and fight for our rights," she said.
She also expressed her solidarity with Nayantara Sahgal and other writers protesting against the "increasing communalisation" of society.
Musician returns award
Chandigarh: To protest SAD's "silence" on "communal disharmony" in the country, Baldeep Singh of Anand Foundation has returned the "Parman Patra" conferred on him by the state government in 2011. In a letter to the Chief Secretary, Singh, who is an expert in "shashtriya sangeet", said: "In the wake of the Akali Dal, perhaps the only minority community related political outfit allied with the BJP and its mentor RSS, remaining silent on an issue that threatens to destroy our nation's pluralistic character, I am returning the Parman Patra conferred by the Punjab government upon me in 2011." (With inputs from Sarbjit Dhaliwal)
Top Stories