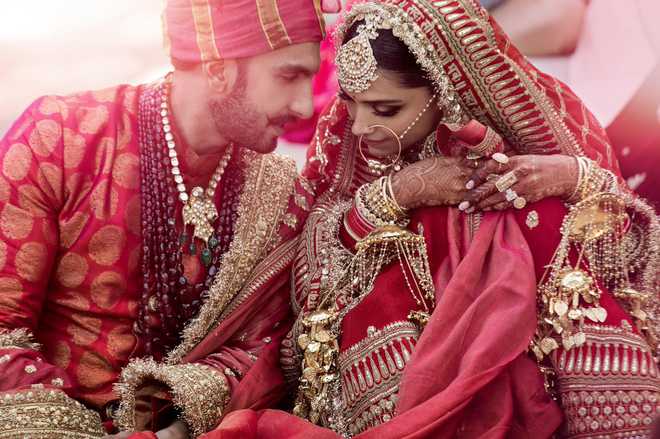 GS Paul
Tribune News Service
Amritsar, November 17
An Italian Sikh organisation has alleged that the Sikh code of conduct was violated during the wedding of Bollywood actors Ranveer Singh and Deepika Padukone.
Akal Takht acting Jathedar Giani Harpreet Singh said the matter would be taken up with the five high priests as and when a complaint was received.
The couple tied the knot at Villa del Balbianello, overlooking Lake Como, on November 14-15. Anang Karaj (Sikh wedding ceremony) was performed in the presence of Guru Granth Sahib, which was shifted from the Brescia gurdwara to the wedding villa 150 km away.
"This was in violation of the Akal Takht 'hukumnama' which sternly prohibits taking Guru Granth Sahib to a place other than a gurdwara," said Indian Sikh Community Italy president Sukhdev Singh Kang. He said his organisation would write to Akal Takht Jathedar for an investigation and necessary action.
"It was a major lapse on the part of the gurdwara management," Kang added.
A "hazoori raagi" of the Golden Temple, Bhai Narinder Singh, flew from Amritsar to perform the marriage ceremony.
---
What Takht edict says
According to the Akal Takht 'hukumnama' (edict) dated March 16, 1998, signed by then Jathedar Giani Ranjit Singh, Guru Granth Sahib must not be taken to a hotel, banquet suite, club, pub, bar etc. for Anand Karaj (Sikh religious wedding ceremony) as this is a violation of Sikh tenets. "Guru Granth Sahib must not be present where alcohol, meat or tobacco is served or consumed. All granthis and raagis, gurdwara committee members and organisers of Sikh-related programmes must not take part in this sacrilegious act. The Sikh Rehat Maryada (code of conduct) must be adhered to under all circumstances. Those who act in conflict with this 'hukumnama' will face religious punishment as decided by Akal Takht."