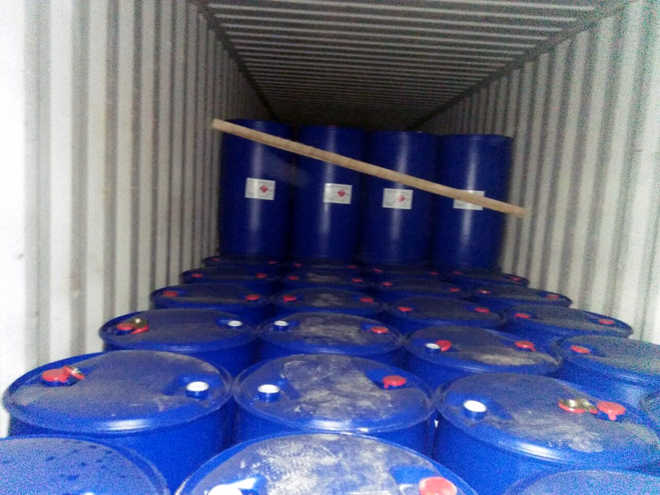 Tribune News Service
Moga, July 29
The police today seized two containers (trailers) on the Moga-Jalandhar highway in Dharamkot sub-division, containing 66,000 bulk litres of extra neutral alcohol (ENA) worth Rs 60 lakh, which was allegedly being sold to local smugglers for manufacturing illicit liquor.
Palwinder Singh, SHO, Dharamkot police station, said the drivers of the two truck-trailers, Tapinder Singh and Kulwinder Singh, had been arrested and a case registered on the complaint of the Excise and Taxation Department.
Deputy Excise and Taxation Commissioner Jaspinder Singh, Assistant Excise and Taxation Commissioner Jagtar Singh and Excise and Taxation Officer Narinder Kumar inspected the ENL (rectified spirit) and took details of excise permits for verification.
A preliminary investigation revealed that the ENA was meant to be exported to foreign countries for pharmaceutical and cosmetics purposes, but was allegedly diverted to bootleggers for manufacturing illicit liquor.
The police seized documents (transport permits), that revealed that three containers containing 33,000 bulk litres of ENL were meant to be transported to Ludhiana for export to foreign countries. One container was yet to be located.
Meanwhile, a liquor smuggler managed to escape in an SUV, taking away ENL. Investigations revealed that the ENA was manufactured by M/s BCL Industries and Infrastructures Limited, which has a distillery plant with an installed capacity of 100 KLPD at Sangat Kalan village on the Dabwali road in Bathinda.
---
25 boxes of liquor confiscated
Sangrur: The Chhajli police confiscated 25 boxes of smuggled liquor near Gobindgarh Jejiya village on Friday night. The police have registered a case and started an investigation. During patrolling, Head Constable Sukha Singh spotted an Etios car on the roadside near Gobindgarh Jejiya village. When he checked, he found that the vehicle had hit a tree and there was no occupant inside. During a search, he found 25 boxes of liquor in the abandoned car. TNS