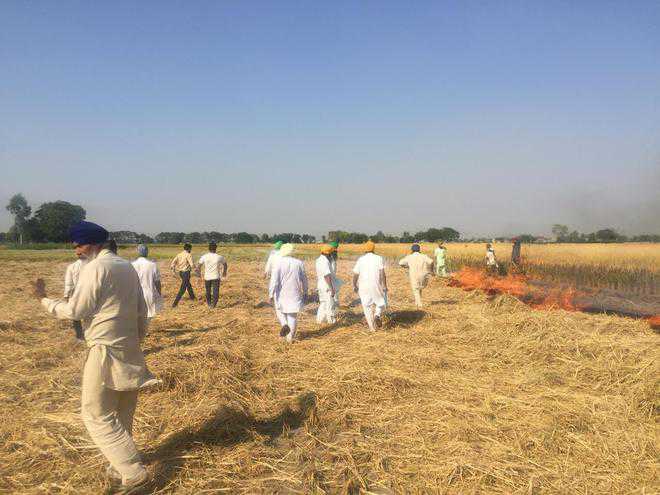 Aman Sood
Tribune News Service
Chandigarh/Patiala, October 22
Raising questions over the entire exercise of spending crores for providing subsidised machinery to help farmers manage paddy straw, the state has recorded a 25.57 per cent increase in stubble-burning incidents.
At least 43,000 various types of equipment worth over Rs 650 crore were supplied in parts of the state to manage stubble. The farmers are, however, reluctant to use the machinery to its full capacity, saying they must be given "financial compensation".
According to the official data, the government has spent nearly Rs 500 crore, while farmers and cooperative societies have pooled in Rs 150 crore to get modern farm equipment for the management of straw.
While 28,609 units of such machinery were supplied in 2018, 15,043 before this year's paddy harvest season. Despite this, farm fires in the state crossed the figure of 4,036 between September 23 and October 22 as compared to 3,214 in the same period last year. These incidents have been recorded by Punjab Remote Sensing Centre, Ludhiana.
Tarn Taran has been placed at the top with 736 fire incidents as against 492 in 2018, despite the fact that over 2,000 subsidised machines were supplied in the district in the last two years. Amritsar reported 597 farm fires against 524 even as the department claims to have supplied over 1,600 machines. In the CM's home town of Patiala where over 2,000 machines were supplied, 439 incidents were reported as against 360. Similarly, in Ferozepur where the department supplied over 2,939 machines, fire incidents jumped from 179 to 311. In Gurdaspur, despite 1,414 machines, incidents have risen sharply from 107 to 239.
The state provides 50-80 per cent subsidy to farmers and cooperative societies to buy equipment. Besides, it has spent lakhs on awareness campaigns. "However, as the court has stayed recovery of fine from farmers found violating the ban on straw-burning, farmers are least bothered," said a PPCB official.
Kahan Singh Pannu, Secretary, Agriculture, said the fire incidents had increased over the past year and there was a need to continue with the efforts to persuade farmers to give up the practice. "Farmers must understand that it is their future generation and their areas, which are facing the maximum brunt," he said, claiming Punjab had enough equipment to tackle this menace.
Finally, 2 challaned
The Punjab Pollution Control Board has issued two challans in Muktsar district for burning crop residue
Ravipal, SDO, PPCB, said, "The action has been taken in accordance with the NGT directions. We are still appealing to the farmers to stop burning crop residue or face action."
Meanwhile, Muktsar DC MK Aravind Kumar said the Revenue Department would mark "red entry" in the land records of farmers for burning crop residue. TNS