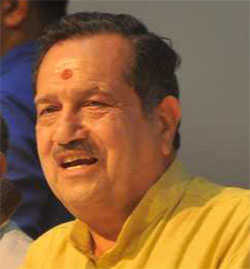 Bhartesh Singh Thakur
Tribune News Service
Chandigarh, November 27
Rashtriya Swayamsewak Sangh (RSS) leader Indresh Kumar on Tuesday attacked the Supreme Court for the "delay" in Ram temple case hearing. He also flayed Punjab Local Bodies Minister Navjot Singh Sidhu, calling him a "gaddar (traitor)."
Addressing a gathering at a function organised by Joshi Foundation in Panjab University (PU) here, he cliamed that the Supreme Court Bench, by declining Uttar Pradesh's plea for an early hearing in the Ayodhya title suit case, "insulted" 125 crore people.
"The Supreme Court could hear terrorists' plea in the middle of the night, but peace is mocked and insulted... Even the British didn't dare to do this kind of injustice," he claimed.
Stressing that the Modi government wanted to introduce a legislation for raising Ram Mandir, he cautioned: "A freak, however, could approach the court and today's Chief Justice may order a stay."
Turning to Sidhu, the RSS leader said whosoever called him Punjab's hero was "not true to the Gurus."
On the issue of Khalistan, he retorted: "Will Khalistan cover all religious places of the Sikhs? Will it cover all five Takhts? The whole of India is Khalistan."
'PVT bill on ayodhya'
New Delhi: BJP MP Manoj Tiwari on Tuesday said he would bring a Private Member Bill in Parliament for the construction of Ram Temple in Ayodhya. Tiwari made the announcement after meeting VHP leaders. IANS
Top News
No militant group has claimed responsibility for the attack
AIADMK leads demand for passage of Women's Reservation Bill ...
Said while rapists and murderers were being released under r...
The bench takes note of the submissions by lawyer ML Sharma ...
Csaba Korosi also wondered why there is still no agreement o...