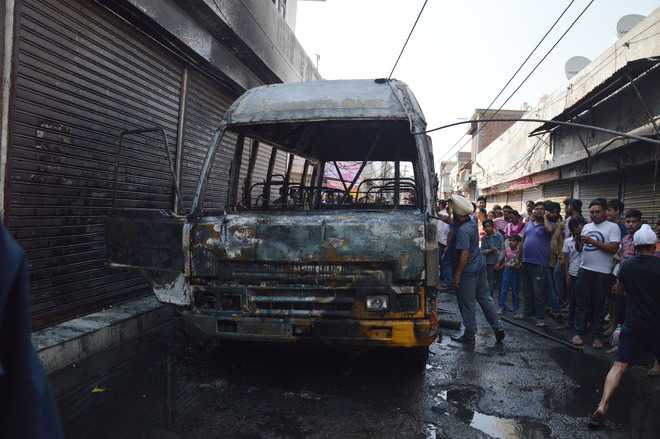 Nikhil Bhardwaj
Tribune News Service
Ludhiana, May 8
Five schoolchildren of GRD Academy had a miraculous escape as the school bus they were travelling in caught fire after coming into contact with low tension wires at Saroop Nagar in Salem Tabri this afternoon.
The children were rescued by shopkeepers and the bus conductor. A few seconds after the children were taken out of the bus, the fire engulfed the vehicle.
The motorcycle parked near the bus also got damaged. School bags of three children also got burnt in the fire. The traders tried to douse the flames, but failed. It was only when two fire tenders reached, the fire was doused. Only five children were left to be dropped.
Shopkeepers blame power corporation for negligence
Shopkeepers of the area blamed the PSPCL officials for not taking action on their complaint seeking solution to hanging wires. Gulzar, a shopkeeper, said an hour before, a shopkeeper talked to PSPCL SDO Navjot Singh Dhillon and asked him to increase the height of the hanging wires, but PSPCL officials did not pay heed.
However, Dhillon said about 10 minutes before the incident, PSPCL employees had gone to the spot to increase the height of the hanging wires, but shopkeepers misbehaved with the staff and told them to send the JE as they wanted an electricity pole there.
"As installation of a pole was not possible in a short span of time, I sent my team to tighten the hanging wires, but the shopkeepers argued with my staff and sent them back," he added.
There was no negligence on the part of the PSPCL staff. "Now the supply to the line is lying snapped. The department will install a pole to prevent any such further incident," he said.
Salem Tabri SHO Vijay Kumar said a complaint was received against the PSPCL and probe had been launched.
Children recount tragedy
Recalling the tragedy, Aishvi, Rajat and Reymanjit said, "We along with Yuvi and Yashita were in the bus. Suddenly, the bus conductor raised the alarm that the rooftop of the bus has caught fire. I along with my brother and sister was taken out by the conductor and some shopkeepers. In no time, the bus caught fire." Garment shop owner Amandeep rescued the children from the bus.