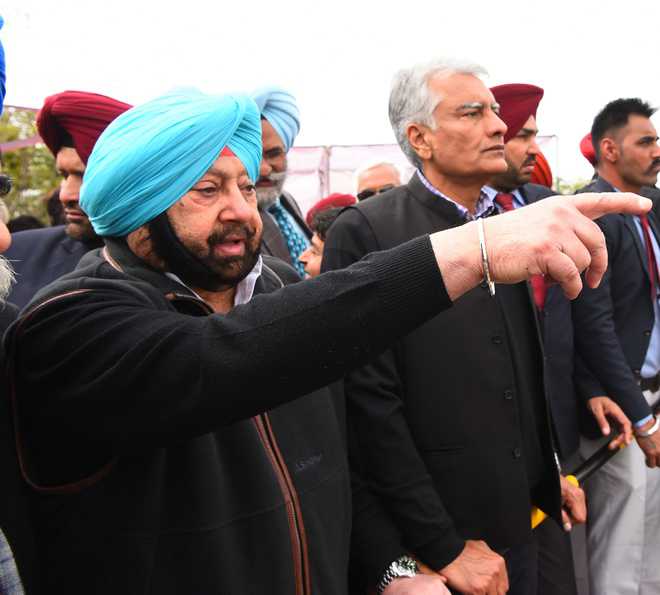 Ravi Dhaliwal
Tribune News Service
Pathankot, March 8
Chief Minister Capt Amarinder Singh on Friday laid the foundation stone of the ambitious 206-MW Shahpur Kandi dam project to be built on the Ravi.
The project, when completed in 2022, will allow the country to control its share of the Ravi waters flowing into Pakistan.
The CM was accompanied by Power Minister Gurpreet Singh Kangar and Gurdaspur MP Sunil Jakhar.
This is the second such ceremony. On April 20, 1995, the then Prime Minister, PV Narasimha Rao, had laid the foundation stone and had claimed that the project will be completed in three years. However, the venture hit a roadblock due to various reasons.
The dam has the potential to provide irrigation water to vast tracts of land in Punjab and J&K. The Indus Waters Treaty, which was signed between India and Pakistan in 1960, had envisaged that the country got full rights for the utilisation of waters of the Ravi, Beas and Sutlej. However, at present, some water of the Ravi flowed into Pakistan through Madhopur headworks and the dam plans to minimise it.
"The overall cost of the project is pegged at Rs 2,715.70 crore and is slated to be completed by June 2022," an official said.
"The construction of the dam was initially approved by the Planning Commission in November 2001 but the work could not make much progress due to the fund crunch in the Punjab Government. Later when the work began, it again got halted following a dispute between Punjab and J&K. A series of meetings held bilaterally and the Centre finally paved the way for an agreement between the two states," Jakhar said.
"The dam's construction is expected to generate hundreds of jobs for both skilled and unskilled workers."
An official disclosed that the dam had been designated as a 'national project' following which its construction would be monitored regularly by the Ministry of Water Resources. The Centre would extend whatever assistance is required by Punjab and J&K for the implementation of the project.
Work halted repeatedly
April 20, 1995: The then Prime Minister, PV Narasimha Rao, laid the stone of the project and claimed it would be completed in three years. However, the venture hit a roadblock due to various reasons
November 2001: The dam work was initially approved by the Planning Commission but the work could not make much progress as the state was facing fund crunch
Later when the construction work began, it again got halted following a dispute between Punjab and J&K