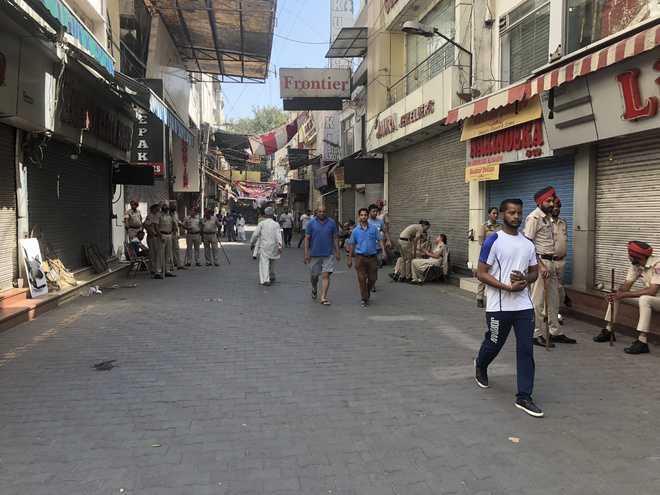 Our Correspondent
Phagwara, April 25
Most business establishments in the town remained shut on Wednesday on a bandh call given by the General Samaj Manch in protest against the renaming of the city's Gol Chowk as Samvidhan Chowk.
The protesters also demanded arrest of Dalits for allegedly creating trouble in the town. A heavy police force was deployed at all sensitive places of the town.
Meanwhile, manch activists lifted their dharna near Gandhi Chowk on the Phagwara-Banga road following an intervention by IGP Naunihal Singh.
Several politicians belonging to both SAD-BJP and the Congress extended support to the general community and joined the protest.
Phagwara MLA Som Parkash, Mayor Arun Khosla, SAD leader Jarnail Singh Wahid, Sarwan Singh Kular, Congress Councillor Sanjeev Bugga and many others were present. They demanded arrest of Lok Insaaf Party leader Jarnail Nangal and Ambedkar Sena (Mool Niwasi) president Harbhajan Suman, blaming them for the clash on April 13.
Addressing the protesters, Som Parkash blamed politicians of other districts for playing politics on the issue.
He claimed before renaming a chowk, the issue should be taken up in a meeting of the Municipal Corporation. He said that the CM or the DGP had no authority to rename a roundabout. He claimed that the MC had passed an agenda seven years ago to rename Gol Chowk after Bhagat Singh.
Khosla said he had put an agenda to call a meeting of all councillors to name the chowk as Bhagat Singh Chowk.
Many Congress councillors announced that they would submit their resignation in protest of against the Congress government's decision to rename the chowk.
Manch leaders, including its president Fateh Singh Parhar and general secretary Girish Sharma, left for Chandigarh to knock on the doors of the Punjab and Haryana High Court regarding the April 13 incident. On April 13, a clash had broken out between members of a Dalit outfit and Hindu right-wing groups over the renaming of the chowk.
Top News
Hundreds are still believed to be trapped under rubble, and ...
Chances of Parliament taking up a discussion on Motion of Th...
A Muslim man alleged he was assaulted and abused in the name...
Frank Hoogerbeets describes himself one having 'utmost respe...
Will be produced before the competent court in Mohali on Tue...