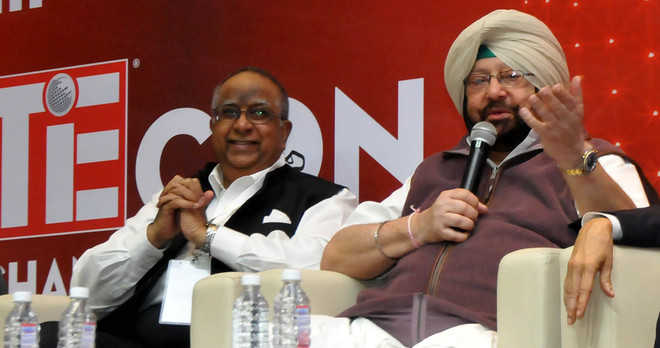 Tribune News Service
Mohali, March 8
Chief Minister Capt Amarinder Singh today projected the state as an incubator for promoting entrepreneurship, even as the Industries Department signed a Memorandum of Understanding (MoU) with an Australian company to incubate 50 social impact entrepreneurs by 2020.
Delivering the keynote address on the first day of the two-day TiECON Entrepreneurship Summit 2018, the CM said the state's first-of-its-kind social impact incubator would encourage women social entrepreneurs.
The MoU was inked by Industries and Commerce Secretary Rakesh Verma and Param Singh, Director of Goodles Pty Ltd. The Australian company will set up four monsoon impact incubators with 50 social start-ups at a proposed investment of Rs 5 crore and with an employment potential of over 1,000.
"Punjabis are entrepreneurial by nature. That remains our biggest advantage," Capt Amarinder said, adding that Punjab had huge potential in leading the next wave of the "entrepreneurial ecosystem" in the country.
He urged young entrepreneurs, whom he described as the harbingers of growth, to explore the investor-supportive environment in Punjab and set up more industrial units here.
He stated that with the launch of the Punjab Start-up Hub here, the state was gradually emerging as a fertile ground for start-ups to grow and thrive.
The Chief Minister said Punjab offered the cheapest and most affordable power to the industry at Rs 5 per unit. "We have successfully addressed most of the concerns in the new industrial policy and would further strengthen the ecosystem to attract more industry," he added.
Job creation resulting from industrial development would act as a catalyst for the unemployed youth, which was the only way to prevent them from falling prey to drugs and crime, he said.
"If we don't keep pace with growth, we would be left behind. Punjab's growth rate is around 5.6 per cent, which is below the projected average growth rate of the country at 7.4 per cent," he said.
Capt Amarinder said Punjab would soon have a Skill University.
Top News
Suspected gunman, a former policeman, later kills his wife a...
The victim family, from Hoshiarpur in Punjab, was kidnapped ...
Jasdeep and Amandeep Singh came out with their hands zip-tie...
UN health agency informed the Drugs Controller General of In...