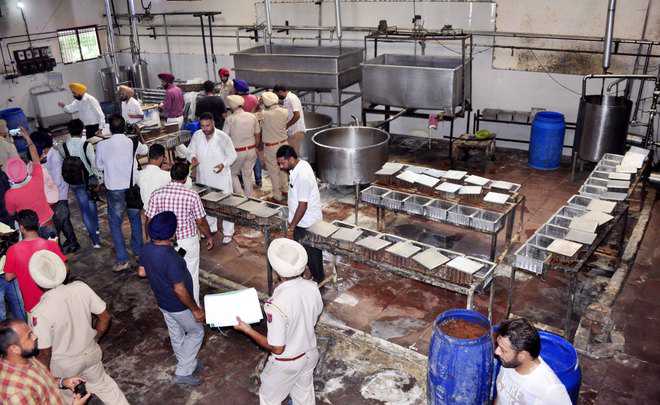 Aman Sood
Tribune News Service
Patiala, August 19
Samples collected by the Health Department from Singla Chilling Centre at Devigarh in the district passed tests at the Kharar-based state food testing laboratory in the past three years, even though the owner had allegedly been using detergent, chemicals and acid to prepare the items.
"The accused factory owner, Anil Kumar Singla, revealed during the interrogation that he had struck a deal for Rs 15,000 for the sample collected on Tuesday," said Patiala SSP Mandeep Singh Sidhu. The police procured four-day police remand of the accused.
As per documents in possession of The Tribune, a fortnight before Diwali in 2015, some shops getting supply from the accused were raided in Arya Samaj area by the local police and health officials. "Health Department officials collected samples in 2017 from Singla Chilling Centre, where spurious products were made without using milk. The samples of paneer and milk passed the tests at the state lab," a senior police official said.
Meanwhile, the court of Judicial Magistrate (first class) Shagun on Sunday ordered that the confiscated material, including paneer, ghee and milk, be destroyed as it was unfit for human consumption. The court ordered videography of the process following an application by the factory owner, who had stated that the "perishable items be sold in the market".
Sources said the Patiala police had sought legal opinion to register a fresh FIR against the firm owner after spotting a borewell on the factory premises in which he allegedly dumped acid and waste material after making spurious cheese.
"An investigation is also underway to ascertain how shopkeepers bought paneer for Rs 130 per kg when the market price is about Rs 240. It indicates that the health officials never checked the items at any shop, knowing well that these had come from the manufacturer who paid them a monthly sum of Rs 5,000," the sources added.
---
Health officials to face music
Patiala SSP Mandeep Singh Sidhu said: "We have recommended a departmental probe by the health authorities. Our own probe is on to expose those who went scot-free despite buying products from the accused."
237-kg paneer seized in Fazilka
Fazilka: Officials seized a large quantity of milk products, including 237 kg of paneer, from various shops here. Dr Hans Raj Malethia, Civil Surgeon, said the samples had been sent to a government laboratory for a quality check. oc
Top News
Congress has lodged an FIR against him by for peddling a fak...
Vivo is a Chinese smartphone-manufacturing company
Says wants to develop friendly policing in the state