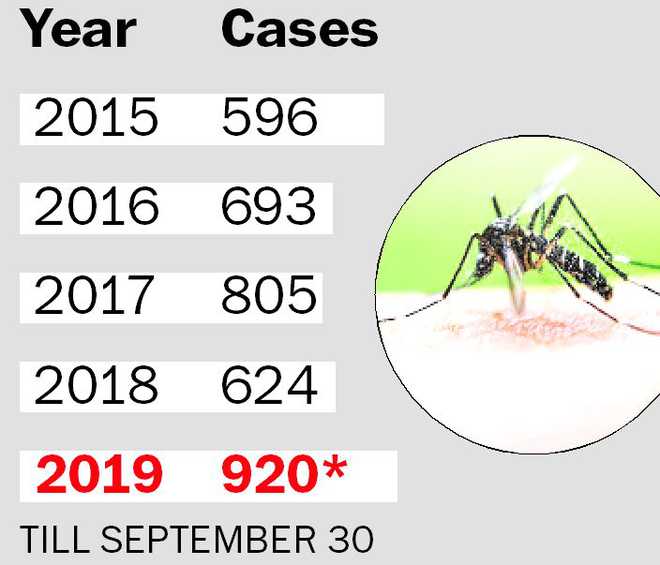 Vishav Bharti
Tribune News Service
Chandigarh, October 5
Around two years ago, the state had launched a campaign, "Malaria Elimination by 2020", with pomp and show. The programme, however, seems to have remained ineffective as over 1,000 cases have already been reported this season. The number has been increasing for the past two years.
As per the Vector Borne Disease Control Programme, 920 cases of malaria have been reported in the state this year so far. The number is already much higher than the previous year's 624 cases. It is despite the fact that a large number of cases are reported in the months of October and November.
In 2016, National Vector Borne Disease Control Programme had placed Punjab among 15 states where the target was to eliminate malaria by 2020. It was expected that by 2020, the state will achieve zero indigenous cases and deaths due to malaria.
To remain in phase 1, there should have been zero death due to malaria in the state. However, last month a migrant labourer in his mid-twenties died in Muktsar due to suspected malaria. The district has reported 33 confirmed cases so far. Malaria in this case was one of the causes, but the final confirmation will come after a board of doctors gives its opinion.
In the beginning of 2017, the state government had announced to distribute free insecticide-treated nets in certain areas of the state, which has not been done so far.
Another serious problem is that the two crucial medicines which are used in malaria treatment — Chloroquine and Primaquine — are not available in a large number of government hospitals and dispensaries.
Neeraj Dhingra, Director, National Vector Borne Disease Control Programme, said, "The rise in number of cases in Punjab may be due to migratory population. Only after distinguishing the local and migratory cases, we can reach a conclusion if the instance in Punjab is higher."
Dr Anu Dosanjh, Prorgamme Officer, Vector Borne Disease Control Programme, could not be contacted. The National Framework for Malaria Elimination (NFME 2016-2030) was launched with the goal to eliminate malaria from the country by 2030. However, being a category 1 state, Punjab aspires to become malaria-free by 2020 itself.
Top Stories
After bhoomi pujan in Ayodhya, Bhagwat says have fulfilled r...