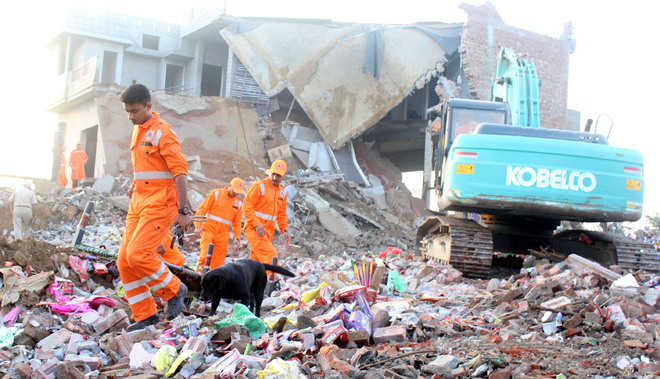 Parvesh Sharma
Tribune News Service
Sangrur, September 17
Two years after seven labourers were killed in a blast in a godown at Sullar Gharat, the owner and his relative continue to hold a licence each for storing crackers while permission for the renewal of a third one is pending with the authorities.
To prevent a repeat of September 19, 2017, the Sangrur DC has written to the Deputy Chief Controller of Explosives (DCCE) for cancellation of both licences and to reject the application for renewal of the third since residential houses have come up in the vicinity.
After the blast, Sangrur DC Ghanshyam Thori directed Dirba Sub-Divisional Magistrate (SDM) and DSP to submit a report on the current status of cracker licences in Sullar Gharat. A blast ripped through the cracker godown on September 19, 2017, and a case was filed against Gandhi Ram and his son Pardeep Kumar under Sections 304, 308 and 427, IPC, and the Explosive Substances Act. But witnesses turned hostile and both were acquitted on March 27 last year.
It has now come to light that Pardeep Kumar and his uncle Baghirath Ram have stored crackers at two godowns on the Gujran road for which they hold licences while Gandhi Ram's plea for renewal of licence is pending with the authorities. Investigations by the SDM revealed that NOCs for the licences were issued in 2007. But the situation has since changed with several houses coming up to the south and west of the godowns.
"We have valid licences. We were acquitted in the Sullar Gharat blast case last year. I am not aware of any such report by the Sangrur DC," said Pardeep Kumar. Expressing surprise, senior officers said the authorities ought to have cancelled the licences immediately after the 2017 blast. Meanwhile, the DC has issued show-cause notices to two owners in Dhuri and Sangrur for cracker stores in residential areas.
Top Stories