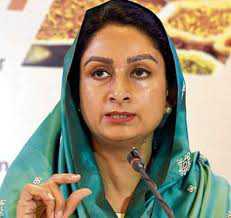 Tribune News Service
Bathinda, September 15
Union Food Processing Industries Minister Harsimrat Kaur Badal onSunday hit out at the Congress government for its alleged insistence to hold a separate programme on the 550th Gurpurb of Guru Nanak at Sultanpur Lodhi.
She came down heavily on the state government after dedicating the 11th anniversary of the Nanhi Chhaan movement to Guru Nanak by initiating an exercise to plant 550 plants at AIIMS here, besides distributing 15,000 saplings in her constituency.
Replying to a media query on the Gurpurb row, Harsimrat said the development was extremely unfortunate. She said historically all major religious celebrations had been organised by religious bodies. She said since an elected Sikh body (SGPC) existed under the auspices of Akal Takht, there was no need for the Congress government to rise above Takht and hold a separate function. She said the SGPC and Patna Sahib committee had put up the stage during the 350th Parkash Purb celebrations of Guru Gobind Singh in Patna.
She said the Gurpurb was an opportunity to send out Guru Nanak's message of "sanjhivalta" to the world. "I appeal with folded hands that this message should not be weakened. All celebrations should be held under the auspices of Akal Takht. Both the community and Akal Takht are one and we should do sewa as one only," she said, adding all differences must be kept aside to send a message of unity to the world.
She said the state government shouldn't do anything that weakened the Sikhs.
___________________________________________________
Does sewa, goes live on Facebook
Sultanpur Lodhi: Harsimrat performed sewa in the town on Saturday. She, along with party MLAs and leaders, cleaned up the surroundigns of a holy shrine with a broom. She also went live on Facebook for about four minutes during which ex-Akali minister Jagir Kaur is also seen joining her with a broom in her hand. TNS
Shun stubble-burning, farmers urged
Urging the farmers to refrain from burning paddy stubble, the Punjab Government on Sunday appealed to them to follow the philosophy of Guru Nanak in reverence of the 550th Parkash Purb celebrations.
The resolution, passed in the Cabinet meeting held at Sultanpur Lodhi last week, urged the farmers to do away with the unhealthy practice in line with upholding Guru Nanak's ideology to protect natural resources.
Describing the ill-effects of stubble-burning, Agriculture Secretary KS Pannu said it perishes many nutrients and useful microbial organisms, besides causing pollution. tns