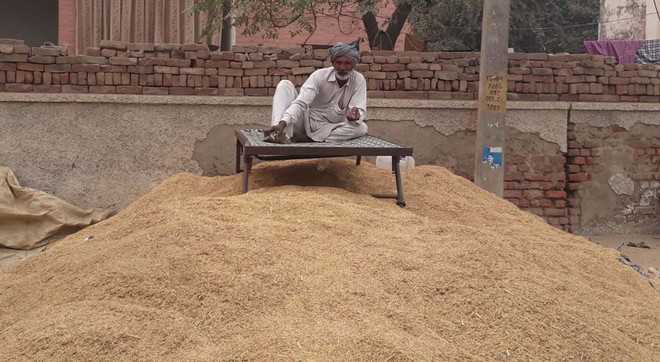 Praful Chander Nagpal
Fazilka, November 5
Basmati growers here are up in arms as the popular 1121 aromatic variety is fetching a lower price in the Fazilka market compared to other markets due to a cartel raised by the private traders.
Traders, including exporters and rice millers, are the bulk buyers of the variety.
As farmers are being offered lower price, they have started stocking the paddy. Sources said traders have been purchasing paddy at Rs 3,100 per quintal compared to Rs 3,300-3,400 per quintal in nearby districts for the past five days.
"Private traders and exporters have connived to keep prices low. The farmers are left with no other alternative but sell it to private traders in the absence of minimum support price and government policy," alleged Des Raj of Balluana village who has been waiting to sell his produce at Fazilka.
"Farmers switched over to the less water-consuming variety on the persuasion of the government which has now let them down," said another farmer Angrej Singh.
Basmati growers of Theh Qalandar village said villagers have decided not to sell their produce at lower rate.
They claimed that about 20,000 bags (each weighing 35 kg) of basmati have been produced in the village so far. Out of those, only 3,000 bags have been sold by farmers. The rest has been stored in the hope of getting a better price after the dismantling of the cartel.
Official sources said the arrival of 1,46,567 tonnes of paddy had been recorded in the district so far. "I have directed the market committee authorities to look into the matter and take action," said DCIsha Kalia.
Top Stories