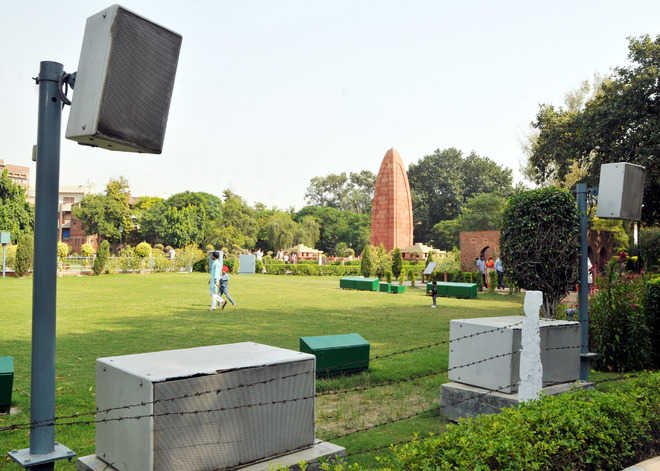 GS Paul
Tribune News Service
Amritsar, October 16
Defunct since 2014, the light-and-sound show at the Jallianwala Bagh has fallen victim to a political tussle.
With just six months left for the centenary of the massacre, there was no concrete plan to revive it. It was on April 14, 2010, when then Union Defence Minister AK Antony, had in the presence of former Information and Broadcasting Minister Ambika Soni, dedicated the 52-minute light-and-sound-show to the public as a tribute to the martyrs.
The Jallianwala Bagh National Memorial Trust, which is responsible for the Bagh's upkeep, runs under the chairmanship of the Prime Minister. Union Minister Arun Jaitley had included the Jallianwala Bagh in the list of heritage sites.
State Culture Minister Navjot Singh Sidhu said for reviving the Jallianwala Bagh's light-and-sound show project, he had got sanctioned Rs 8 crore under the Union Ministry of Tourism's Swadesh Darshan Scheme, but six months had passed and these funds could not be utilised for want of official nod from the trust, headed by the Prime Minister.
He said another Rs 20 crore under the Pilgrimage Rejuvenation and Spiritual Augmentation Drive (Prasad), too, had been received for setting up a commemorative landscape and museum to suit the sanctity of the place, but these funds, too, were lying unused as the trust had not issued the NoC (no objection certification). "It is pity that we have money, but cannot utilise it as the Centre is reluctant to give nod. The Jallianwala Bagh never belonged to any political party, why should there be race for credit war," he said.
Former Rajya Sabha MP Virendra Kataria, who was one of the members of the trust, said under the chairmanship of Prime Minister Narendra Modi, not a single meeting of the trust was conducted and not a single penny was granted. "We were never invited to official functions at the Jallianwala Bagh during the NDA rule," he said.
Rajya Sabha MP Shwait Malik, who has been recently appointed as member of the trust along with former Chief Minister Parkash Singh Badal and former MP Tarlochan Singh, said, "Sidhu Saheb and Kataria ji need not bother. Now that we have come in picture, we will do the needful. No permission is required from the Prime Minister to visit the Jallianwala Bagh. How many times they visited it to observe the shortcomings? I have utilised MPLAD funds to revamp toilets and other basic amenities for visitors and will arrange funds further too," he said.
Top News
Local Government Minister Dr Inderbir Singh Nijjar 'resigns'...
Hand over medals to BKU chief
'United World Wrestling will hold a meeting with the wrestle...
Locals, CRPF and police personnel rush to the spot and launc...
Home minister is currently visiting Manipur as part of effor...