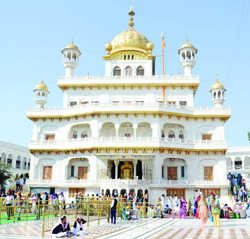 London, March 4
A British tribunal will rule on a Freedom of Information (FOI) request for classified UK Cabinet Office files that are believed to hold information on Britain's involvement in Operation Bluestar in 1984.
A three-day hearing of the First Tier Tribunal (Information Rights) will open in London on Tuesday to determine if UK's Information Commissioner was right to uphold a Cabinet Office decision not to allow the files being made public. The appeal is being handled by KRW Law on behalf of freelance journalist Phil Miller, who has been investigating the exact nature of the then Margaret Thatcher-led government's assistance to the Indian Army operation at the Golden Temple in Amritsar.
"The FOI request should be granted because there is public interest in understanding the extent of UK involvement in the tragic events of 1984. Disclosing documents from three decades ago will not harm diplomatic relations — politicians in the UK and India have embraced right to information laws and recognise the importance of public access to national archives," Miller said.
In 2014, UK government documents declassified under the 30-year rule to make such material public had revealed that British military advice was given to Indian forces prior to Bluestar.
Then British PM David Cameron had ordered a review into this discovery, which led to a statement in Parliament declaring that Britain's role had been purely "advisory" and the Special Air Service advice had "limited impact".
But Miller, author of 'Sacrificing Sikhs: The need for an investigation' report released last year, says many documents from the incident remain classified and only "full transparency" would reveal the exact nature of Britain's involvement.
"A public inquiry will allow us to understand how much Thatcher's decision to send a military adviser to Amritsar in 1984 was motivated by trade and arms deals worth billions of pounds. It will also establish whether the UK military advice was really a one-off or in fact it continued throughout the period, even after the tragic events of June 1984," he said.
The UK Cabinet Office has declined to release the files on the grounds of national security and safeguarding international relations with India. —PTI
Top News
Early trends show that the saffron party with a vote share o...
Congress 40, BJP 25, others 3; the hill state has 68 seats, ...
Leading: BJP 158; Congress 16; AAP 5; Others 3
BJP workers dance in joy as the saffron camp goes into a fes...