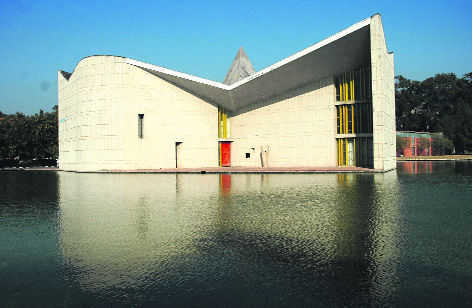 Amarjot Kaur
Tribune News Service
Chandigarh, September 29
Chief Minister Captain Amarinder Singh on Sunday posted a tweet, expressing concern over Panjab University's proposal to include Department of Urdu and Persian in the School of Foreign Languages.
On September 17, a 15-member committee constituted by Panjab University under PU Dean University Instructions (DUI) Prof Shankarji Jha had proposed to merge small departments to form bigger centres in the view of National Assessment and Accreditation Council (NAAC).
The objective of the merger, as stated in the university's proposal, is to enhance the academic performance by sharing infrastructure and human resources i.e. teaching and non-teaching staff. The NAAC guidelines state: "All entres/departments/institutes having faculty less than six and overlapping with each other be merged to form a department/school." A meeting, slated to be held on Monday, will take a final call on the proposal.
On Thursday, Chairperson of Department of Urdu and Persian, PU, Prof Ali Abbas, had written a letter to the DUI, explaining how "Urdu is not a foreign language. In fact, Urdu was born and brought up in India only." The contents of his letter read: "Urdu was born and nurtured and cultured in India during the first two decades of the 13th century by Amir Khusro... Now is the time, either to merge the departments of Urdu, Panjabi and Hindi into one department under the banner of Department of Indian languages or be allowed to function independently as per the present-day arrangement."
Also, the president of Panjab University Teachers' Association (PUTA), Prof Rajesh Gill, on Wednesday resented the varsity's proposal on the account of excluding PUTA representatives from the 15-member committee constituted by PU Vice Chancellor Prof Raj Kumar.
Ali Abbas said, "This happened a year and a half ago too, but former Vice Chancellor Prof AK Grover corrected it. Urdu is an Indo-Aryan language, while Persian is Aryan language. Urdu's grammar is Indian. It was popularised by Amir Khusro and Baba Farid in Punjab, Nizam Bedari in the Deccan and Afzal Panipati in Haryana. How is it a foreign language?"
Commenting on the issue, Gurpal Singh Sandhu, Dean, Languages, Panjab University, shared, "The NAAC said that small departments, where teachers and students are less in number, should be merged into big departments. Probably, that's the basis on which the proposal has been made. The committee is yet to finalise the proposal and I will not let this merger of Urdu in foreign languages come to a pass."
Though the Vice Chancellor refused to comment, DUI Prof Jha said, "This move of the university has been met with resentment; we have received representations against the merger of Urdu department and other departments too and we will consider it in a meeting tomorrow."