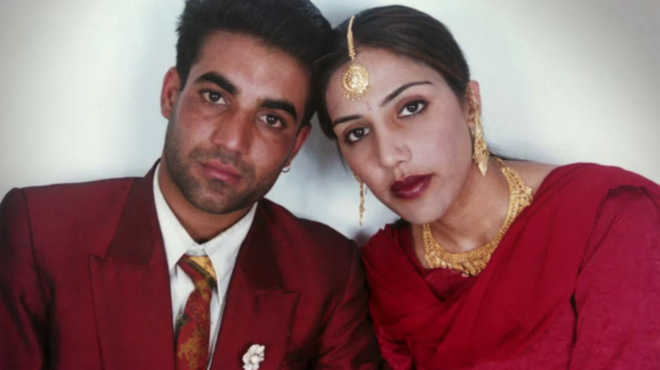 Jupinderjit Singh
Tribune News Service
Chandigarh, September 9
"I will ask Jassi's mother: Was our love a crime that she got her killed?" says Sukhwinder Singh Sidhu (38) alias Mithu, reacting to the Canadian Supreme Court's decision to allow the extradition of Jassi's mother Malkiat Kaur Sidhu and maternal uncle Surjit Singh Badesha.
"Finally, my wife's killers will face trial for murder. My sole wish is to see them behind bars," he said today.
Canada-born Jaswinder Kaur Jassi had fallen in love with Mithu of Kaunke Khosa village (Jagraon) during a visit to Punjab in 1994. Kaunke Khosa is also her mother and uncle's native village. Mithu was then a kabaddi player who plied an autorickshaw. Jassi's affluent family opposed the match as the youth had a poor socio-economic background. Later, the lovers got married against the wishes of her parents. On June 8, 2000, the couple was attacked by contract killers allegedly hired by Malkiat and Surjit. Jassi died, while Mithu survived. After an investigation, the Punjab Police charged Jassi's Canada-based mother and uncle with conspiracy to murder her.
Mithu, now a truck driver, said: "I'm still her husband. I have rejected hundreds of marriage offers. I can't share my love for Jassi with anyone. I want to tell her mother that my love is true and eternal."
Hailing the extradition order, Mithu said the Canadian Government had never allowed him to plead in their courts. "Their government had stonewalled my request to pursue the case, but I believe there is justice in Canada today," he added.
Mithu had recently moved the Justice Mehtab Singh Commission, which is probing "false" cases registered by the Punjab Police in the past 10 years. The cases slapped on him ranged from rape, for which he spent three-and-a-half years in jail before acquittal, to rioting, snatching and drug smuggling. He was booked in six cases, of which he has been acquitted in four.
He refused to budge despite these cases and the offers of crores of rupees and land to withdraw his statement against the accused duo.
"The cops who arrested me didn't ill-treat me, but they told me to forget about Jassi," Mithu said. "Whenever I refused an offer for a compromise, another case was slapped on me," he has claimed before the commission. On the basis of his application, notices have been sent to the police.
"From the initial offer of Rs 10 lakh to the latest (Rs 1.5 crore), besides the ownership of 14 acres or a well-settled life abroad, supporters of the accused have promised it all to me. But I can't trade my love for all this. I just want Jassi's mother and uncle to be punished for what they did to her and me," said Mithu, his voice trembling.
Contract killing
1994: Canada-born Jassi Sidhu meets Sukhwinder Singh Sidhu alias Mithu at his village, Kaunke Khosa (Jagraon), during a visit to Punjab; they begin a relationship
2000: After a nearly six-year-long affair, Mithu and Jassi get married against her family's wishes; in June, scooter-borne couple waylaid by 14 contract killers near Malerkotla; Jassi murdered, Mithu survives
2005: After an investigation by the Punjab Police, India requests Canada to extradite Jassi's mother Malkiat Sidhu and uncle Surjit Badesha to face trial for alleged honour killing
2014: Extradition judge in the British Columbia court orders that Jassi's uncle and mother be deported to India, but the Appeal Court overturns order on the grounds of India's "appalling" record on treatment of prisoners
2017: Canada's Supreme Court clears decks for the duo's deportation
Top Stories