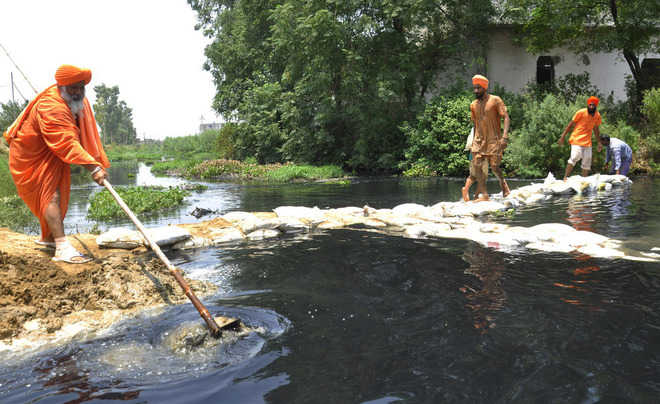 Aparna Banerji
Tribune News Service
Jalandhar, May 21
The hazardous Beas spill has catapulted the cleansing of toxin-ridden waters of Shahkot into one of the central issues ahead of the bypoll.
A week before the dumping of molasses into the Beas and subsequent threat to water across the state, posters bearing photographs of Sant Balbir Singh Seechewal across the Shahkot constituency sought that water be made a major issue in the byelection.
In Seechewal, posters pasted outside homes of a majority of villagers warn prospective candidates coming to seek votes, "Gande Paani Bein vich pana band karo, saade sareyan di ehi mang" (Stop dumping dirty water into the Bein. This is our only demand).
As the environmentalist's village — Seechewal — also falls in the constituency – the village on the banks of the Kala Sanghian drain has already decided to vote for the party that will ensure clean water.
The Shahkot constituency is home to two water bodies of the state - Chitti Bein and Kala Sanghian. However, the dumping of effluents from Phagwara industries into the Chitti Bein and toxins from Jalandhar industries into Kala Sanghian have left the water bodies polluted, leaving a trail of cancer, allergies and other diseases across the villages on the banks of the drains.
The Kala Sanghian originates from Himmatpur village and ends at Malsian village, where it joins East (Chitti) Bein, which further falls into the Sutlej. At least 100 villages are located along its banks.
Surjit Singh of Seechewal village says, "Earlier this month, my nephew died of heart attack. My elder brother has cancer and another nephew, a resident of Bhodlipur village near Malsian, died of cancer. For us water is the only issue. We want the party which addresses this problem."
Environmentalist Seechewal said, "For us the cleansing of the Chiti Bein, Kala Sanghian and the Sutlej are the only issues in the byelections. Much before the Beas fish died, we had taken up the water issue. Villagers can't stay here or marry because the water stinks and makes them sick. Of the 50 MLD STP for the Kala Sanghian drain, only 16 MLD is operational, while the rest untreated toxic water is flowing into drains. No other election issue — even unemployment — is relevant to us because employment is of use only when people are alive."
Top News
This comes amid a diplomatic row between India and Canada ov...
Was speaking to Indian journalists in Washington
Granthi Giani Jaswinder Singh from Pine Hill Gurdwara in New...
Heavy security deployed to deal with the situation
Head Constable Chaubey Singh, Constable Omveer Singh and Con...