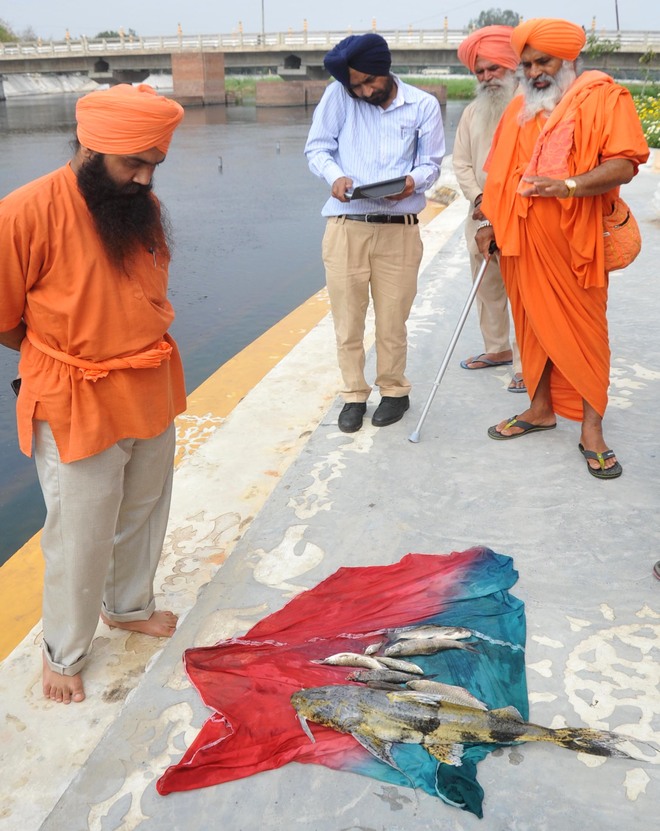 Aparna Banerji
Tribune News Service
Jalandhar, April 5
Just a week before people will come to take a dip in the Holy Kali Bein during the festival of Baisakhi, dead fish were found floating in it. Environmentalists say the fish died due to the continuous flow of polluted water into the rivulet. Hundreds of dead fish floating on the Holy Kali Bein were fished out today by kar sewaks.
Environmentalist Balbir Singh Seechewal said, "Polluted water is flowing into the Bein and the supply of fresh water has been reduced. Due to the increase in polluted water, fishes are dying. The administration needs to address the issue."
Seechewal rued that polluted water from Kapurthala city, which should be treated at a plant, was flowing into the rivulet. He was apprehensive about people taking a dip in the Kali Bein during the upcoming Baisakhi festival. He said drain water flowed into the Kali Bein at Saidon Bhalana, etc.
Officials of the Punjab Pollution Control Board (PPCB) also took samples from the rivulet from various places, including where the fish were found dead. Punjab Pollution Control Board chairman Manpreet Singh Chatwal said he would look into the matter.
Kapurthala Deputy Commissioner DS Mangat said, "It is a low-lying area, due to which dirty water accumulates in the area from time to time. It's a natural phenomenon. The flow of fresh water had also been reduced due to construction work at the Mukerian Hydel Project. This is why the fish died. However, we released more water from Kanjli this afternoon, which has reduced the damage."
Chief Environmental Engineer, Jalandhar, PPCB, JS Majithia, said, "A team of our officers is present at the Holy Bein and they have searched upstream and downstream. There are no dead fishes there. If some fishes have died, it must be due to the reduced level of oxygen in the water. Samples have been collected and will be verified soon."