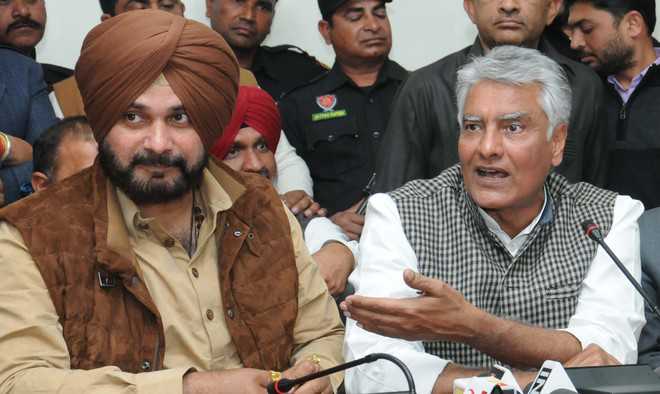 Tribune News Service
Jalandhar, February 4
Local Bodies Minister Navjot Sidhu today questioned the seriousness of the Punjab Government in curbing illegal sand mining and the prevalent corruption in the department.
Addressing the media here, Sidhu wondered who was stopping the government from impounding trucks carrying illegal sand. "The Himachal Pradesh Government has curbed illegal mining by impounding trucks involved in the activity. It has also levied electricity charges on crushers, while no such policy has been formulated by us," said Sidhu, adding that levying a meagre Rs 7 a unit on 1,008 crushers in Punjab would generate Rs 150 crore revenue.
He said government contactors of sand quarries too were indulging in illegal practices. "The prescribed weight of sand carried by a tipper is different from what is actually loaded in the vehicles," said Sidhu, adding that while the mining was a Rs 3,000-crore industry in Punjab, the government was only able to get Rs 450 crore till date.
Accompanying Sidhu, PPCC president Sunil Jakhar said it was not possible to impound every tipper. "We have managed to increase revenue from Rs 40 crore to Rs 450 crore and will soon take it to Rs 2,000 crore," said Jakhar.
On the alleged "goonda tax" sought from transporters at Bathinda refinery, Jakhar alleged that it seemed to be an act of some Akali workers who wanted to malign the government's image. He said an investigation had been initiated into the matter.
Says onus on CM
When asked why no action had been taken against corrupt MC officials, Sidhu said the matter pertained to the Personnel Department headed by the CM. "Earlier the CVO didn't prosecute even a single official named by us. We now have an honest CVO. He is doing a good job," he said.
Bats for public audit of works
Sidhu said councillors had been asked to revive mohalla committees for a public audit of development works. He said budding engineers from reputed colleges had been asked to inspect civic works and report directly to his office. "We have also hired Grant Thornton, a world renowned audit firm, for a third party audit of development works carried out in the last 10 years," he added.
Top News
UK registered yacht, which was sailing from Oman to Europe, ...
National Conference calls for all-party meet on August 22 to...
'This is a serious issue and we will look into it', says Jus...
'In order to attract Section 354 A (sexual harassment), ther...
Hussain moves Supreme Court against Delhi HC order