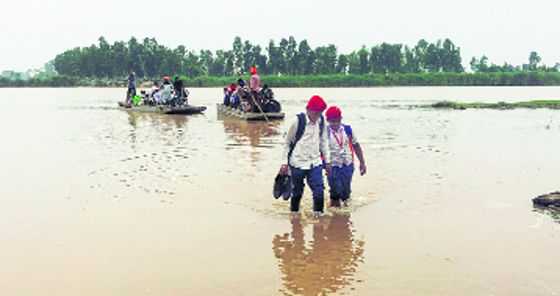 Aman Sood
Tribune News Service
Patiala, January 3
To ensure that the "natural habitat of thousands of aquatic creatures and plant species is preserved", the Punjab Wildlife Department has proposed a "heritage" tag for the Beas, the "only living river in Punjab". The proposal will be sent to Chief Minister Capt Amarinder Singh,who holds the Wildlife and Environment portfolios.
The proposal was put before a committee of experts, some of them from abroad, at a workshop last month. The experts were of the unanimous opinion that it was time the river was saved from being further polluted. The "heritage" tag, they maintained, would entail an action plan to clean and save the river.
The Congress government had in 2017 notified a 185-km stretch from the Harike Headworks to Talwara as Beas Conservation Reserve. Recently, the Wildlife Department released 47 hatchlings of critically-endangered gharials (gavialis gangeticus) into the Beas, which seem to have adjusted well.
Principal Chief Conservator of Forests (Wildlife) Kuldeep Kumar told The Tribune: "Beas originates near the Rohtang Pass in Himachal Pradesh and flows into Punjab. Its water is used to irrigate fields in more than four states. A separate budget could be earmarked to save the river, which is Punjab's lifeline. We will approach the CM in this regard."
The initial draft of the proposal states that the river is home to rare aquatic wildlife, including the Indus dolphin, smooth Indian otter, turtle species, 500 bird species, 90 fish species and hundreds of plant species and that it is important that "like the Ganga, a Beas river action plan too is chalked out."
Special Status for Indus dolphin likely
The Wildlife Department intends to get the CM's nod to declare the Indus river dolphin as the "state aquatic animal" to safeguard it from disappearing in Punjab. The black buck is the state animal while the baaj, also known as northern goshawk (accipiter gentilis), is the official state bird.