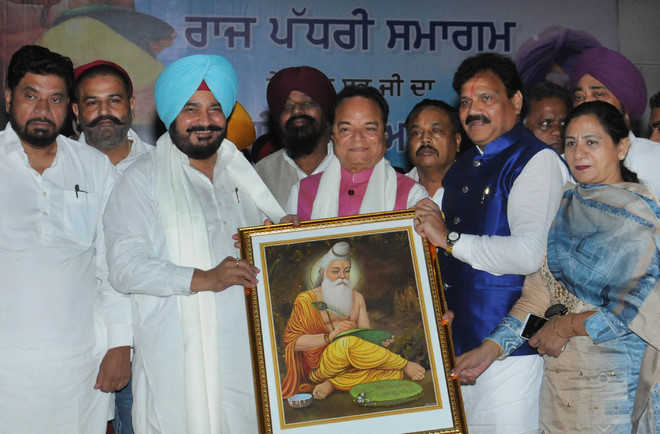 Tribune News Service
Jalandhar, October 13
Ahead of the bypoll in four Assembly segments, Forest and Social Justice Minister Sadhu Singh Dharamsot today announced that the Congress government would implement the 85th amendment to the Constitution to facilitate reservation in promotions.
In a gathering of leaders from the Dalit community during an event to celebrate Valmiki Jayanti today, the minister went all out to woo the community.
The Forest and Social Justice Minister said earlier in the presence of Chief Minister Capt Amarinder Singh he had announced that if he couldn't implement the 85th amendment, no one could.
He said, "There are some forces are among us, who indulge in doublespeak and don't want to see the Dalits empowered. They seek votes from them, but when the time comes for payback, they backtrack."
Dharmsot said, "The decision to implement the 85th amendment was taken by the CM in the Assembly."
Projecting the Congress as champion of the Dalit community, Dharamsot said, "Under the Congress government in the country, Dr BR Ambedkar was empowered to embolden the Dalit community through constitutional provisions. Without 25 per cent reservation implemented by Dr Ambedkar, no one would have allowed you to sit on chairs."
The minister also said that the state government was preparing a comprehensive plan for the development of Sri Valmiki Tirath in Amritsar. He said a water treatment plant would also be installed at the sacred sarovar at this place.
Dharmsot also announced a grant of Rs 21 lakh for the construction of Valmiki community hall in Jalandhar West Assembly segment.
Top Stories