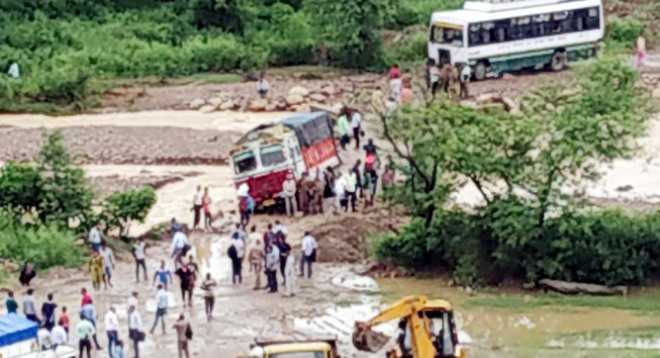 ROBINSINGH@TRIBUNE.COM
Tribune News Service
Dharamsala, August 13
Traffic remained disrupted on the Palampur-Hamirpur national highway for about five hours due to heavy rain in the region and damaged a culvert on a rivulet.
This morning a truck got trapped in the broken culvert of a rivulet near
Thural on the Palampur-Hamirpur national highway, which led to a traffic jam. The movement of traffic could be restored only after the truck was pulled out of the rivulet.
The broken culvert on the rivulet is a regular feature during flash floods. The culvert was damaged a few months ago and the PWD authorities maintained that it could be repaired only after the monsoon ended.
Due to heavy rain, there were reports of damage roads in various parts of the district.
Traffic remained disrupted in some areas of Jasur region due to rivulets being in spate.