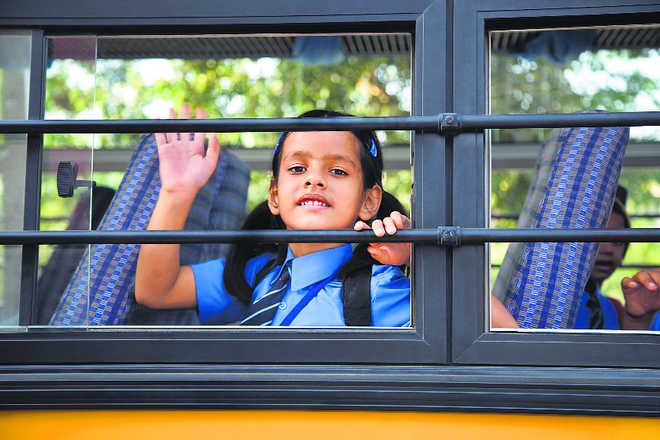 editorial@tribune.com
Aditi Tandon
Nursery admissions have never been easy. But the worst part is — they are getting tougher every school season. All over India, stories abound of how parents suffer months of harassment in the hope of securing a pre-school entry for wards, and often get nowhere.
In this fresh season of nursery admissions, nothing seems to have changed. This trend is common to most states except some which have brought laws to regulate the entry and costs at the nursery level. Tamil Nadu blazed the trail by enacting The Fee Regulation Act in 2009. The Act ensures a state-level committee under a retired High Court Judge to regulate fees that private unaided schools can charge. It provides for fee revision every three years in consultation with school managements and parents represented in the apex committee. Maharashtra in 2011 and Rajasthan in 2013 framed similar laws.
Most states, however, have no regulation for a sector that has become synonymous with profit making.
Delhi itself is without a law despite long years of struggle for one. The struggle began in 1997 when some parents moved the Delhi High Court (HC) seeking fee regulation. The HC order in 1998 said the Centre should consider a national law on fee regulation for private schools considering education is a subject on the concurrent list.
"The law was never enacted by either Delhi state or the Centre primarily because majority private schools are owned by big business houses or politicians. We need parents' representation in school management committees so that parents have a say in devising admission and fee revision criteria. Most Delhi schools have 21-member committees with just one parent on it," says Ashok Agarwal, the advocate fighting for the law in Delhi HC.
According to Agarwal, absence of a regulation, both in terms of school fee and criteria for admissions, leads to arbitrariness on the part of school managements. Some schools in Delhi, such as Presidium, now offer "discount packages to parents to admit children for 14 years of education and pay a hefty advance for all 14 years.'
"We have challenged in the Delhi HC practices being followed at Presidium Dwarka. At nursery-level, they charge advance money for 14 years of schooling. A notice has been served," Agarwal says. Parents agree. Suman Jagga, a Delhi-based IT professional, says many schools like Presidium have evolved systems where they encourage parents to pay in advance for 14 years of schooling and pay nothing in between.
"For some parents this works well because they are spared the harassment of annual fee hike of 10 pc in almost all schools. I have had such a difficulty in securing nursery admission for my first child. You need either big money or big approach to get an admission in Delhi," says Jagga who relocated from Delhi to Gurgaon recently just to get her son a nursery admission. In Gurgaon, many schools offer first-come-first-served admissions which guarantee early seekers a seat.
In Delhi, however, majority schools follow points system giving preferences for students residing in the neighbourhood, siblings, school staff, alumni, girl child, single parent etc.
Since the most sought-after Delhi schools like Modern, DPS, Sanskriti etc are located in Central or South Delhi, parents in other parts are left with fewer choices. But even in locality schools, there's no admission guarantee as lotteries decide the fate of parents.
Deepti Dhodi, a resident of Mayur Vihar in East Delhi says, "I did not even apply to top schools because they are far away from my residence and I don't qualify on distance. Even in my locality school, I couldn't manage admission for my child. The school had 160 seats but distributed 5,000 forms charging money for each. In the draw of lots our name wasn't called." Dhodi finally sent her child to a Noida school in neighbouring UP where a first-come-first-served criteria was allowed.
Private schools in Delhi frame their own admission guidelines after the Delhi High Court last November quashed the circular Lieutenant Governor had issued to streamline school admissions. Even in those guidelines, LG had given 70 points out of 100 points to distance. The High Court quashed the guidelines saying, "Administrative autonomy of private unaided schools cannot be restrained by way of office orders…Schools have a fundamental right to maximum autonomy in day-to-day administration including the right to admit students."
The court, however, scoffed at distance being criteria for admissions, saying, "We are unable to appreciate that a student's educational fate can be relegated to his position on a map." A point the HC made while quashing executive orders of Delhi Lieutenant Governor was — how can a circular have basis when there is no law?
Though the Delhi HC said in so many words that distance should not be given importance in admissions, schools across cities continue to award points to distance. Aditi Mann, a Chandigarh-based parent, says, "We could not get our child admitted to Vivek High in our sector despite qualifying on the neighbourhood category. We lost out in the draw of lots after the school filled around half of its 100 seats with siblings, staff wards and alumni points. We, eventually, settled for a school which wasn't our first choice."
But most principals, parents and activists agree that lottery system is the best available to ensure equity in a country demand for education continues to outstrip supply.
"Draw of lots is a flawed system but by far the best. It is fair. As educators we are anguished at the harassment parents face to secure nursery admissions. But the solution is ambitious. We need good neighbourhood schools everywhere to avoid the rush for few top ones," says Aditi Misra, Principal, DPS, Sector 45, Gurgaon, which follows a lottery system for admissions.
Misra says she gets 1,500 applications for 200 nursery seats!
Even the Delhi High Court last November said that schools have the right to devise own admission criteria and observed that the cause for nursery admission chaos was lack of good public schools.
"Till the quality of all public schools is improved, the disparity between demand and supply will remain. This court is of the view that no office order, policy, notification or formula can resolve this disparity," it said. Ashok Agarwal, on whose petition Delhi Lieutenant Governor had issued the guidelines, has now appealed against HC's quashing orders and a division bench is hearing the case. He is arguing for the abolition of point system in favour of lotteries as prescribed under the Right to Education Act for filling 25 per cent private school seats at entry level with economically backward class students. The petitioner is also seeking the abolition of management quotas in schools which accept donations.
"Donations are common in Delhi and range between three and Rs 15 lakh," Agarwal says. Parents also acknowledge the malaise with Aditi Mann saying even top Chandigarh schools are accepting donations for admissions though details are not known. "In East Delhi, locality schools are anywhere Rs 50,000 to Rs 1.5 lakh donations for guaranteed admissions," says Deepti Dhodi.
So far as tuition fees go, it varies from Rs one lakh a quarter for high end schools like Pathways in Gurgaon to Rs 30,000 for unbranded locality schools.
Costs of entry to non-CBSE schools, which offer ICSE or International Baccalaureate curricula, are even higher.
As Jyothy Vishwanathan from Gurgaon, who sent her child to a CBSE school, says, "If I send my child to an IB board school, I'd be paying Rs 10 lakh annually by the time he is in class V. Now I will pay half."
Another lesser-talked about problem with nursery admissions is — lack of uniformity in the age at which schools accept children. Some accept children at three plus years; some at 3.5 plus and some at 4 plus. There's no uniformity in age for entry to nursery in India.