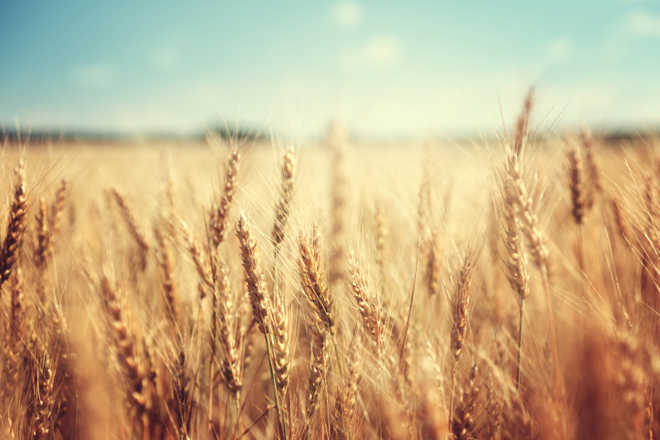 uttara@tribuneindia.com
Vibha Sharma
Tribune News Service
New Delhi, July 18
Climate change and increasing carbon dioxide (CO2) could significantly reduce the availability of critical nutrients such as protein, iron, and zinc in crops in 30 years, a study shows.
International Food Policy Research Institute's research shows wheat, rice, maize, barley, potatoes, soybeans, and vegetables are all projected to suffer nutrient losses due to elevated CO2 concentration by 2050. The study, called 'A modeling approach combining elevated atmospheric CO2 effects on protein, iron and zinc availability with projected climate change impacts on global diets', finds that wheat, rice, maize, barley, potatoes, soybeans, and vegetables are all projected to suffer nutrient losses of about 3 per cent on average by 2050 due to elevated CO2 concentration.
The study says climate change shocks and elevated levels of CO2 in the atmosphere are estimated to bring down growth in global per capita nutrient availability of protein by 19.5 per cent, iron 14.4 per cent, and zinc 14.6 per cent.
In South Asia, iron and zinc availability is projected to be even below recommended levels.
One of the biggest challenges to reduce hunger and under-nutrition across the world is to produce foods that provide not only enough calories but also make enough necessary nutrients widely available. In India, the IARI has developed more than 1000 new high-yield varieties—almost 50 per cent of which have climate resistance properties and 35 bio-fortified varieties— in the past five years to address nutrition-security.
The study however says: "Improvements in technology, and markets effects are projected to increase nutrient availability over current levels by 2050, but these gains are substantially diminished by the negative impacts of rising concentrations of carbon dioxide". Timothy Sulser, who co-wrote the study, says: "Global population growth over the next 30 years will require increasing the production of foods that provide sufficient nutrients. Climate change could slow progress on improvements in global nutrition by simply making key nutrients less available than they would be without it".
Authors say the study represents "the most comprehensive synthesis of the impacts of elevated CO2 and climate change on the availability of nutrients in the global food supply to date". While higher levels of CO2 can boost photosynthesis and growth in some plants, previous research has also found they reduce the concentration of key micronutrients in crops.
Nutrient reductions are projected to be particularly severe in South Asia, the Middle East, Africa South of the Sahara, North Africa, and the former Soviet Union—regions largely comprised of low and middle income countries where levels of under-nutrition are generally higher and diets are more vulnerable to direct impacts of changes in temperature and precipitation triggered by climate change, it says
Protein, iron, and zinc availability in wheat are projected to be reduced by up to 12 per cent by 2050 in all regions. People will likely experience the largest decreases in protein availability from wheat in places where wheat consumption is particularly high, including the former Soviet Union, Middle East, North Africa, and eastern Europe, the study adds.
All readers are invited to post comments responsibly. Any messages with foul language or inciting hatred will be deleted. Comments with all capital letters will also be deleted. Readers are encouraged to flag the comments they feel are inappropriate. The views expressed in the Comments section are of the individuals writing the post. The Tribune does not endorse or support the views in these posts in any manner.