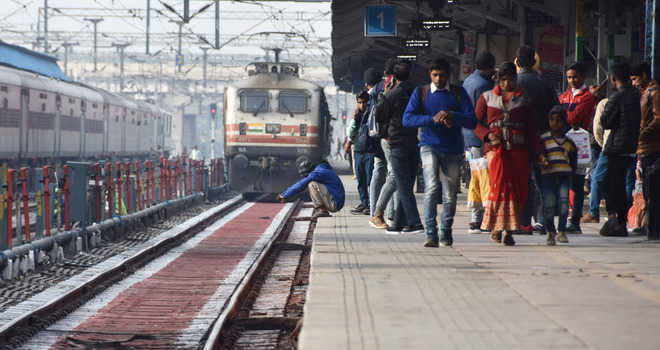 editorial@tribune.com
Our Correspondent
Ludhiana, October 9
In order to cope with the spurt in passenger traffic during the ongoing festival season, Northern Railways have announced extension of two more festival trains. The extended festival special trains would operate weekly between Jammu Tawi-Jhansi and Jammu Tawi-Kanpur Central.
The 04193/94 Jhansi-Jammu Tawi Weekly Special Express train would run from October 11 to December 12.
The 04193 Jhansi-Jammu Tawi train would leave Jhansi every Friday at 7.15am and reach Jammu Tawi at 1.25 am the next day. During the return journey, the 04194 train would depart from Jammu Tawi on every Saturday at 5.30 am and reach Jhansi at 12.20 am the next day.
With 2-Tier AC, 3-Tier AC, sleeper and general coaches, the train would have stoppages at Ludhiana, Ambala Cantt, Delhi Safdarjang, Mathura, Agra Cantt, Dhaulpur, Morena, Gwalior, Dabra and Datia.
The other special weekly train to have an extended run from October 23 to November 28 is 04111/12 Kanpur Central to Jammu Tawi.
The 04111 Kanpur Central-Jammu Tawi train would depart from Kanpur Central on every Wednesday at 5.40 pm and reach Jammu Tawi at 1.50 pm the next day.
In the return direction, the 04112 train would leave Jammu Tawi on every Thursday at 10.10 pm and reach Kanpur Central at 6.55 pm the next day.
The train with 2-Tier AC, 3-Tier AC, sleeper and general accommodation would halt at Pathankot Cantt, Jalandhar Cantt, Ludhiana, Ambala, Panipat, Delhi Junction, Ghaziabad, Aligarh, Tundla, Etawah and Jhinjhak.