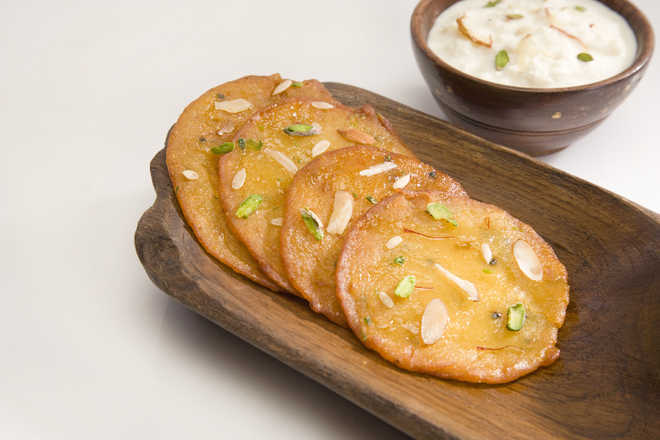 harinder@tribunemail.com
JBS Nanda
In the monsoon season, I am reminded of the good old days of my village in west Pakistan. My village, Rwaat, was 10 km from Islamabad. I cherish the reminiscences of the month of Sawan celebrated in the village. I was a child then, and remember vividly that my elder and married sister would visit us as a ritual. The most remarkable event was the celebration of Teej under the shadow of thick trees.
Seasonal goodies like mal pue, kachche aam ki chutney and kheer were available in abundance. My sister would stay with us till the end of the month of Sawan, leading to the festival of Rakhi, and every day was celebrated with gusto and various ceremonies.
My sister and her Hindu and Muslim friends would select a tall and extensive tree for peeng jhootna. There was a bet on riding high the peeng and plucking a particular mango. After this, gidha and ghumar were performed. All these festivities were performed in the deep shadows of mango and other fruit-laden trees.
All this is missing now. My married daughters come to me for a very limited period and grandchildren desire to eat pizza, burger, noodles, etc. There are no huge trees nearby, where such games can be played. Peeng is not performed due to the lack of trees. These green lungs are the primary source of oxygen and are vital to combat climate change and air pollution. It is said trees grown in an acre provide oxygen to 18 people. Every monsoon, the earth becomes soft and remains in this condition for a long time. It can absorb all types of seeds. In 1950, KM Munshi, the then food and agriculture minister, gave a stern warning regarding pollution in India in the coming years.
The timely warning resulted in the concept of vanamahotsava across the country. After this 'ritual' every year, we forget the importance of trees for our environment. The menace of tree felling was initiated by the British who built many hill cities in India to spend summer in the cool climes. The easy solution was to remove trees everywhere, whenever thick or small trees came in the way of construction. Independent India needed more roads, schools, colleges, office buildings, hospitals etc., to cope with the growing needs of the people.
Drastic measures could not be taken due to lack of policies in the years after Independence. Routine orders — according to the practice started by the British empire — used to come to educational institutes to cut the existing trees on their premises and sell the wood in the market. The amount would then be deposited with the treasury. As a result, educational institutions lost their lush-green cover, under which students used to study nature poets like Wordsworth and Bhai Vir Singh.