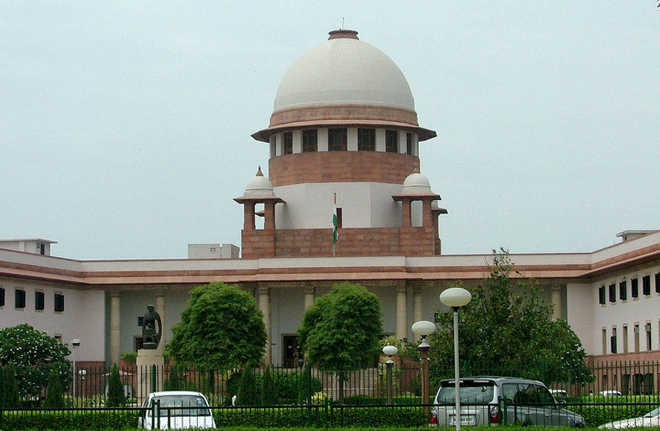 uttara@tribuneindia.com
Tribune News Service
New Delhi, September 11
The Supreme Court on Wednesday said it would take up former RSS ideologue KN Govindacharya's plea for live streaming/recording of Ayodhya land dispute proceedings on September 16.
"We have passed some order in chamber…It will be taken up on September 16," a five-judge Constitution Bench headed by Chief Justice of India Ranjan Gogoi told senior counsel Vikas Singh after he sought hearing of the matter on behalf of Govindacharya.
Earlier, a two-judge Bench headed by Justice Rohinton F Nariman had on September referred Govindachrya's plea for live streaming of the Ayodhya land dispute proceedings to a five-judge Bench headed by CJI Gogoi that hearing the sensitive matter.
"Ayodhya hearing is sensitive. How can it be live streamed? We are an open court but not to outsiders. It's open only to litigants," Justice Nariman told Singh.
Referring to the top court's September 26, 2018 verdict allowing live-streaming of court proceedings of cases of constitutional and national importance, Singh had said it should be allowed in Ayodhya case as well.
After Justice Nariman pointed out that the verdict excluded sensitive matters, Singh had said Ayodhya was an important matter. If live streaming was not possible, at least audio recording or transcription of hearing should be permitted, he had submitted.
Govindacharya submitted that the Supreme Court was hearing the Ayodhya land dispute on a daily basis and even on miscellaneous days—Fridays and Mondays—which showed that it was dealing with the matter extraordinarily and therefore, audio-recording could be "started immediately".
"This case is a matter of national importance. There are crores of people want to witness its proceedings before this court, but cannot do the same due to the present norms in the Supreme Court," Govindacharya contended.
While allowing live streaming of court proceedings in important matters, the top court had last year said: "Above all, sunlight is the best disinfectant. Live-streaming as an extension of the principle of open courts will ensure that the interface between a court hearing with virtual reality will result in the dissemination of information in the widest possible sense, imparting transparency and accountability to the judicial process".
A five-judge Constitution Bench led by CJI Gogoi—which on August 6 commenced hearing on 14 cross appeals against the Allahabad High Court's September 30, 2010 order equally dividing the disputed land between Ram Lalla, Nirmohi Akhara and Muslims— on Wednesday heard arguments from senior counsel Rajiv Dhavan on behalf of Muslim parties. The hearing would resume on Thursday.