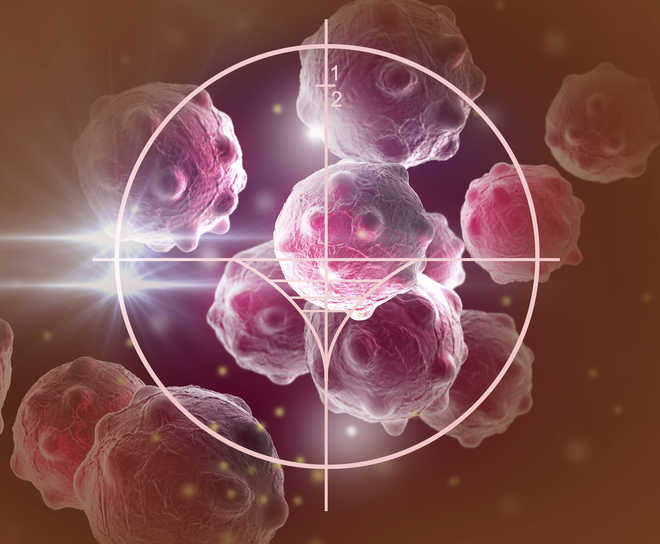 Aditi Tandon
Tribune News Service
New Delhi, September 13
Russian researchers have developed a nanotechnology tool for early diagnosis of cancer and are planning to launch clinical trials of the product in 2018.
Led by Alexander Majouga, head of the biomedical nanomaterials laboratory at NUST MISIS (Russia's National University of Science and Technology), the team is on the verge of a breakthrough in terms of development of a nanodrug which helps detect brain tumours like glioblastoma multiforme. This condition is so far untreatable primarily due to lack of proper detection.
(Follow The Tribune on Facebook; and Twitter @thetribunechd)
The hybrid material the Russian research team has developed is based on magnetic nanoparticles for diagnosing brain tumours. The research is all about a preparation consisting of biopolymer-coated magnetic particles with an average size of 40 nanometres easily detected in MRI scans.
"At this point, glioblastoma multiforme remains incurable. All we can do is buy some years of life by removing the tumour surgically. However, in order to successfully remove the tumour we need a good diagnostic method. All available methods are either toxic or ineffective," says Majouga.
"We have proved that our contrast agent makes is possible to detect glioblastoma on an MRI image at an early stage and to accurately determine the size of the tumour. With good imaging the surgeon will be able to remove a tumour without leaving cancer cells behind. Compared to a conventional MRI image, our contrast agent improves the sizing accuracy by 50 per cent. In ongoing pre-clinical trials, we have already proved effectiveness of the drug. To move to clinical trials we will need to prove its safety within the next 12 months," Majouga says about the research published recently.
Initial testing stage will use magnetic nanoparticles for detection of brain tumours on MRI scans. The plan is to later use the method for detection of other forms of cancers also.
So how does the nanodrug work?
"The biopolymer coating of magnetite nanoparticles contains an anti-cancer drug. The idea is for magnetite particles to deliver the drug to cancer cells in the tumour. Magnetite is completely safe, clearly visible on the MRI and can stay inside the tumour for 30 minutes unlike in the current diagnostic methods which are very toxic. Doctors do not need to hurry and can properly analyse everything. We are now trying to make the magnetite particles stay inside the tumour even longer. We need this not for diagnosis but for treatment purposes," notes Majouga, who is leading a team from NUST MISIS, Lomonosov Moscow State University and Pirogov Russian National Research Medical University.
These scientists are equally engaged with creating hybrids in the form of magnetic pellets injected with medicine which kills the tumours.
"The problem is in standard chemotherapy. Such drugs, no matter how effective, fail to get inside a new growth. Our particles are tiny magnetite particles we are working to keep inside the tumour," says the researcher.
Top News
Says poor largest segment in country, deserve first right on...
The Canadian allegations regarding India's involvement in th...
30 locations linked to news portal, journalists searched; di...