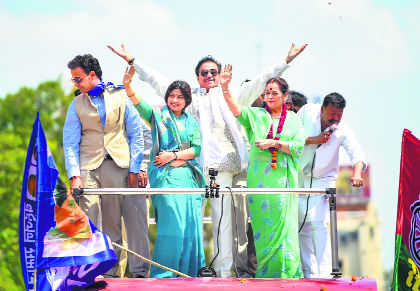 vinaymishra188@gmail.com
Shahira Naim
Tribune News Service
Lucknow, April 18
A piquant scenario emerged in Lucknow today with actor-politician Shatrughan Sinha, barely 12 days after he joined the Congress, seen at a roadshow in support of his wife and SP-BSP-RLD candidate from Lucknow Poonam Sinha. Irked, Congress candidate Acharya Pramod Krishnam reminded the actor of the "party dharma".
Both the Congress and alliance candidates filed their nominations at the Lucknow collectorate this afternoon and thereafter held parallel roadshows to demonstrate their strength. Needless to say, Poonam Sinha's roadshow was far more grand than the Congress show, much to the chagrin of local party members.
In act, the triangular fight in Lucknow began on a contentious note. The Congress decided to announce its candidate for the constituency barely hours after Poonam Sinha had joined the Samajwadi Party and was officially declared the SP-BSP-RLD Mahagatbandhan candidate.
It was given to understand that the Congress would not field a candidate in Lucknow and that it would be a direct contest between sitting MP and Union Home Minister Rajnath Singh of the BJP and Poonam Sinha of the Grand Alliance.
It remains to be seen if Shatrughan will continue campaigning for his wife, further angering local Congress workers and upsetting party candidate Krishnam. However, whether Sinha campaigns for the Congress or his wife is immaterial. Sources claim the split in secular votes will directly help the saffron party, a pattern that is evident seat after seat in Uttar Pradesh with the entry of the Congress.
Congress candidate Krishnam said this election was between to ideologies – one that divided the people and the other that was trying to keep them together. The seat goes to the polls on May 6.
Clad in a green sari, the SP nominee arrived at the Collectorate, on the last date for filing nominations, along with her husband and Samajwadi Party MP Dimple Yadav.
The BJP has not lost any Lok Sabha election in Lucknow since 1991. Former Prime Minister Atal Bihari Vajpayee represented the constituency from 1991 to 2004. After Vajpayee retired from active politics, BJP's Lalji Tandon won the high profile seat in 2009.
Top Stories