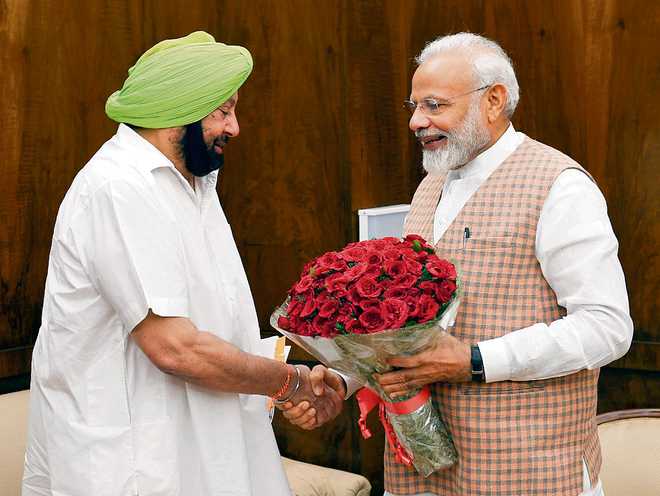 sanjiv@tribunemail.com
Tribune News Service
New Delhi, July 15
Punjab CM Capt Amarinder Singh today made light of the resignation of his Cabinet colleague Navjot Singh Sidhu, saying he could do nothing if Sidhu didn't want to do his job as Power Minister.
In Delhi to meet PM Narendra Modi, he said Punjab's power situation was precarious and the Power Minister was shunning responsibility. "It is paddy season from June-October and the power situation is grim. I can't do anything if he (Sidhu) does not want to do his job," he told the media at Parliament House after meeting the PM with whom he discussed the Gurpurb celebrations.
Edit: Sidhu on a sticky wicket
On Sidhu sending his resignation to Congress president Rahul Gandhi, he said there was nothing wrong with that since the Punjab Cabinet had been constituted in consultation with the party high command. "Today he sent the letter to my residence in Chandigarh. I will have a look at it when I return in a day or two."
Capt Amarinder changed Sidhu's portfolio in July on grounds of 'non-performance' as Local Bodies Minister which he said had cost the Congress dearly in the urban Assembly segments during the Lok Sabha polls. Sidhu challenged Capt, petitioning Rahul Gandhi and Priyanka Gandhi. Asked if Sidhu had tried reconciliation, the CM replied: "I don't have any issues with him." He called his meeting with the PM as a courtesy call.
Jaishankar calls on Punjab CM
New Delhi: External Affairs Minister S Jaishankar called on the Punjab CM at the latter's New Delhi residence at Kapurthala House on Monday afternoon. The CM tweeted, "Delighted to meet Minister of External Affairs @DrSJaishankar. Have high hopes from a professional as a minister. Fondly remember his father, K Subrahmanyam ji, who chaired the Kargil Review Committee." TNS
Can do nothing
The power situation in Punjab is precarious. I can't do anything if he (Sidhu) does not want to do his job. —Capt Amarinder Singh, CM