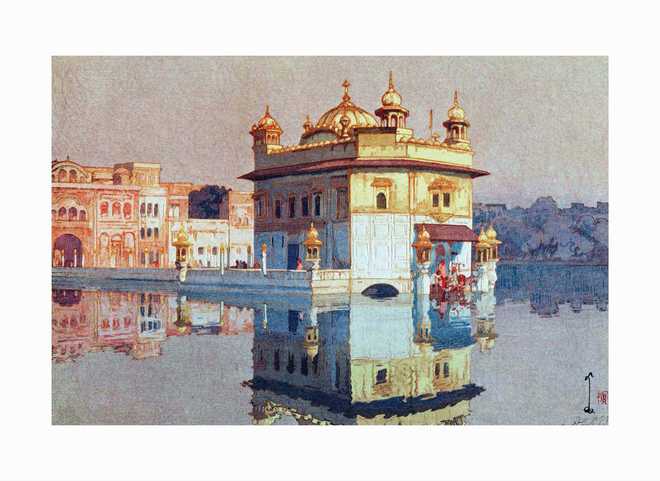 singhking99@yahoo.com
Rana Siddiqui Zaman
Eighty artworks, all of them by western artists and all of them around one theme — Sikhs. Titled Sikhs — An Occidental Romance, the exhibition had been mounted by The Hubris Foundation, a not-for-profit organisation that exhibits western art, free of charge to India. It showcases artworks from renowned western artists such as Alfred De Dreux (France), Emily Eden (UK), Rudolf Swoboda (Austria), Edwin Lord Weeks (America), Prince Alexis Soltykoff (Russia), August Schoefft (Budapest), William Carpenter (UK) and others, for the first time in India.
The works were shown at New Delhi's All India Fine Arts and Craft Society (AIFACS). The museum archival replicas of paintings from the 19th and 20th century included a portrait of battle-hardened Ranjit Singh in reverential tranquility by Emily Eden, Edwin Lord Week's iconic painting of the Golden Temple and Rudolf Swoboda's portrait of a Sikh commissioned by Queen Victoria.
There were works by August Schoefft, Maharaja Sher Singh's court painter, who painted a credulous Akali ensnared by the thugs of central India; Russian prince Alexis Soltykoff's Ladies of Pleasure, a rendition of the grandeur of Lahore during the Sikh Empire; and a work by Charles Harding, son of Viscount Harding, the Governor General of India. He painted the infamous Gulab Singh of Kashmir, accused of betraying the Sikh Empire.
The collection included French artist Alfred De Dreux's portrait of Maharaja Ranjit Singh, commissioned by an Italian General and presented to the king of France. In addition, it had German painter and lithographer Franz Winter Halter's portrait of the charming prince Duleep Singh, which was painted under Queen Victoria's Commission, and more.
The exhibition also displayed works of art depicting the Anglo-Sikh wars, Viscount Hardinge, the cities of Amritsar and Lahore, the Jallianwala Bagh massacre and the Princess Bamba Collection. Bamba, Duleep Singh's eldest daughter, inherited a good collection of articles and paintings. Before she died in 1957, she sold off her collection to Pakistan. It is now housed in Lahore Fort.
Gautam Shrivastava, the collector of these artworks and founder of Hubris, has been collecting works of art from Europe and USA for over 20 years. He says that while looking for art works on Sikhs, he noted three things. "One, we found it very peculiar that this very small community got immense attention in the early half of the 19th and 20th century across the globe. Two, we wondered why have westerners been so interested in painting them; and three, most of the works on Sikhs are in their admiration. You can understand one country or one incident, but these countries were spread far and wide and included British, France, Germany, Russia, Japan, Hungary, Austria, Europe, America, et al."
The works too were either the artists' own initiative or were commissioned by kings, queens or museums to bring out their grandeur, bravery, royalty, family life, spirituality, humility and humanitarianism.
One of the earliest artists to come to India was Emily Eden in 1838. She was the sister of the Governor General of Auckland. She painted Sikhs, wrote a book on them and exhibited the works back home, drawing tremendous interest in the people. Schoefft came to India during Ranjit Singh's empire. He painted the Sikhs exhaustively and showed his work in Vienna in 1850. Similarly, French prince Alexis Soltykoff came to India in 1847-48. He too published a much-admired book on the Sikhs.
An interesting work, Srivastava pointed, has been that of Maharaja Sher Singh done by a Hungarian artist. "Sher Singh was a brave man, handsome and kind hearted. The painter has painted all his characteristics beautifully. Sher Singh is wearing a Kohinoor in one hand and a ruby in the other. He was hailed as a brave soldier with immensely good looks and a wide chest," he says. Sher Singh was hacked in public by a few treacherous persons.
Bringing all these replicas was not an easy task, said Srivastava, especially in the absence of any government support. "We took four and a half years to bring a replica of Maharaja Ranjit Singh from Pakistan as he was in Lahore during his last days. I got it only three months back. Don't ask me how."
Srivastava says these are the best possible replicas ever produced with machines from Japan, canvas from Germany and inks from Europe, etc. He says he wants every Punjabi to see the show and says he is ready to give this collection to anyone willing to exhibit them for the public.
All readers are invited to post comments responsibly. Any messages with foul language or inciting hatred will be deleted. Comments with all capital letters will also be deleted. Readers are encouraged to flag the comments they feel are inappropriate. The views expressed in the Comments section are of the individuals writing the post. The Tribune does not endorse or support the views in these posts in any manner.
Top Stories