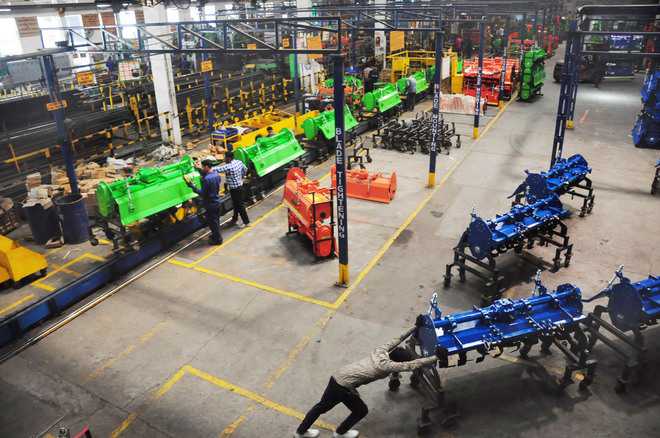 editorial@tribune.com
Parveen Arora
Tribune News Service
Karnal, September 11
The Karnal agricultural implement industry, which imports machines to more than 100 countries, has been reeling under recession ever since the start of this fiscal.
The sales have fallen by 33 per cent in the first five months of this fiscal in comparison with the corresponding period last financial year.
During the first five months of the last financial year (2018-19), the industry did a business of around Rs900 crore. This year, the sales have fallen by Rs300 crore because retailers, who face liquidity crisis, have cancelled several bookings.
"Despite the slowdown in auto industry for more three months, the agricultural manufacturing industry, somehow, maintained the production and sales. But now due to considerable price reduction in the rate of iron and steel by 20 to 25 per cent, the industry has witnessed a fall in business. Ours is associated with tractor industry, which is also facing a slowdown. In the current fiscal year, we are facing financial stress as the buyers are not coming to the market due to financial constraints," said Som Sachdeva, adviser, Karnal Agricultural Implements industry (KAIMA).
Ravi Beri, senior vice-president, KAIMA, considers GST, demonetisation and unemployment as main reasons for the slowdown. "No doubt the Centre has taken some measures to uplift the economy, but it must concentrate on strengthening the infrastructure," he said.
Bhavuk Mehta, general secretary, KAIMA, said that due to the slowdown, the industry had witnessed a slump. He blamed the delay in refunding of GST for the financial crisis and said refunding of GST took three to four months instead of 60 working days. "If GST is released on time, there could be some respite to retailers as well as manufacturers."
"The GST refund must be made at the earliest to the industry, so as to ease the cash flow in the market, which will boost the industrial growth in every sector," said KAIMA president Ravinder Dhall.
Cities