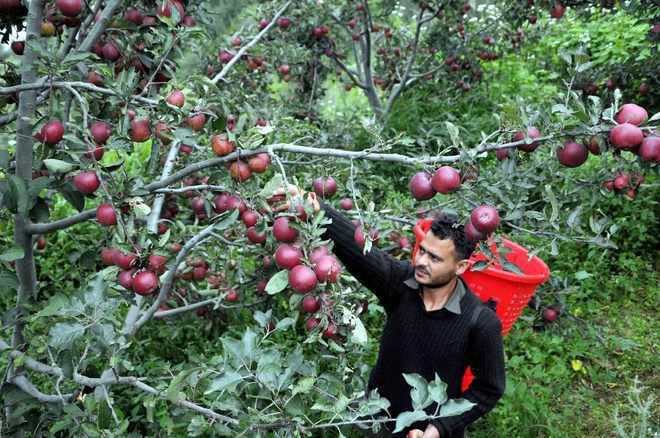 editorial@tribune.com
Kuldeep Chauhan
Tribune News Service
Shimla, October 8
Thousands of small and marginal apple growers are in distress as they have not been paid for the fruit they had sold to arhtiyas and Adani Agri-Fresh last month.
The government-run Agricultural Produce Market Committees (APMCs) have failed to regulate arhtiyas, who continue to cheat them, said farmers, whose payments amounting to crores of rupees were pending over the years. The APMC Act states that payments should be made the same day after the fruit has been sold in the markets, but both arhtiyas and Adani Agri-Fresh officials, who buy apples directly from farmers, have not made payments this year as well.
"I have not received payment for the apple I sold in the Parala market in September," said Deepak Kumar, a farmer from Chopal. "Arhtiyas had assured us of making payments after 10 days of procurement but hundreds of farmers have not been paid."
Adani Agri-Fresh buys apple for its three controlled-atmospheric stores at Sainj, Bithal and Rohru. The company is buying the "top-quality fruit" mainly from small and marginal farmers at the rates ranging from Rs 14 per kg to Rs 64 per kg. "I sold my fruit crop to Adani Agri-Fresh in mid-September and I was told that the payment would be transferred to my bank account within 10 days. I have got only part payment in my bank account after 20 days," said a farmer. "The company, on its website, claims that it saves farmers from exploitation by agents and ensures immediate transfer of payments to their bank accounts," he added.
According to farmers, the company is paying Rs 14 per kg to them for "selected fruit", which is rejected during the manual sorting on the grading machine. "The company is making only part payment to farmers," added Prem Bhagta, a farmer from Dewat panchayat. He is yet to receive Rs 1.80 lakh from a Parwanoo-based arhtiya for apple sold during 2017-18.
Farmers are also complaining against arhtiyas based at Parala, Dhalli, Rohru, Narkanda, Solan, Parwanoo and Chandigarh. "Arhtiyas in Chandigarh promise to make payments the same day, but this year we have not received payments even after 10 days of supplying the fruit," a farmer said.
"Big orchardists get the best price and timely payments, but marginal farmers get the lowest price and their payments are delayed for months and even years," said Sanjay Chauhan, secretary of the Kisan Sangharsh Samiti.
APMC secretary Devraj said hundreds of farmers had complained against arhtiyas last year. "We are getting complaints this year as well and will take action according to the APMC Act," he added.
RK Kaundal, Director, Agriculture, said the government was yet to authorise his office to regulate the market. "We are awaiting a notification. Still, we have directed the APMCs to take action against arhtiyas under the APMC Act, which provides for immediate payment," he added.
GROWERS IN DISTRESS
The government-run APMCs have failed to regulate arhtiyas, who continue to cheat them
Their payments running into crores are pending over the years
They had lodged complaints against arhtiyas last year but have not got payments to date