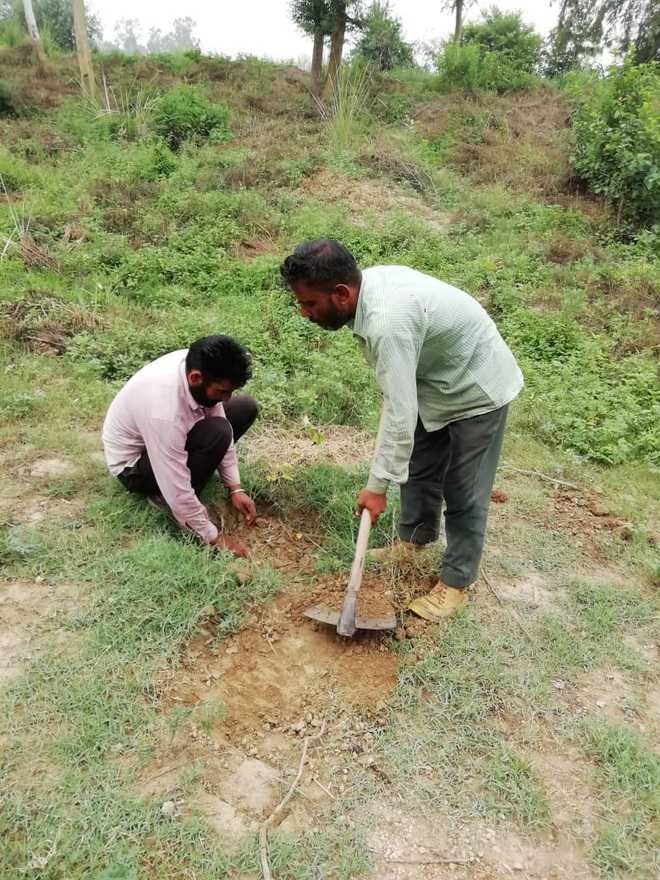 editorial@tribune.com
Ravi Dhaliwal
Tribune News Service
Gurdaspur, July 26
Forest Department workers engaged in the plantation of 550 saplings in each of the 13,000-odd villages of Punjab to commemorate the 550th birth anniversary celebrations of Guru Nanak Dev are at their wits end, not knowing how to deal with the scourge of snakebites.
This development may force the department to call of the work if the state government is unable to provide gloves, boots and medical aid in the form of anti-snake venom.
Last week, labourer Narinder Singh, while planting a sapling in Kalanaur, was bitten by a snake on his foot following which he was admitted to the government dispensary for eight days. Citing their inability to treat him, doctors shifted him to an Amritsar hospital where he died two days later.
Sources say during the same time period, at least half a dozen such deaths were reported in Kalanaur.
This prompted the trade unions to take up the cause of the beleaguered workers. The leaders have now threatened to call off the plantation work, which could derail Chief Minister Capt Amarinder Singh's ambitious drive.
Balbir Singh Sibia, president, Punjab Democratic Jungalat Mulazam Union (PDJMU), said: "Unless proper protection is provided to us, it is impossible to continue the drive. Every day, I receive several complaints from almost all districts of the state. We are filing a PIL in the Punjab and Haryana High Court next week against the government's inability to provide us the safety gear. We will also ask the court to provide Rs 5-lakh compensation in case of death and a permanent job to the kin of the deceased."
Meanwhile, Jarnail Singh, Divisional Forest Officer, Gurdaspur, is at variance with what the union leaders say.
"Only one death (Narinder Singh) has been reported so far. I have forwarded his case to the Punjab Mandi Board, which will give Rs 3.50-lakh ex gratia to the family of the deceased. However, there is no provision with my department to provide any type of safety equipment," he said.
What the DFO says is vehemently countered by Nirmal Singh, president, PDJMU Gurdaspur unit. "We have information that several deaths have occurred in the last fortnight. Funds should be sanctioned at the earliest."