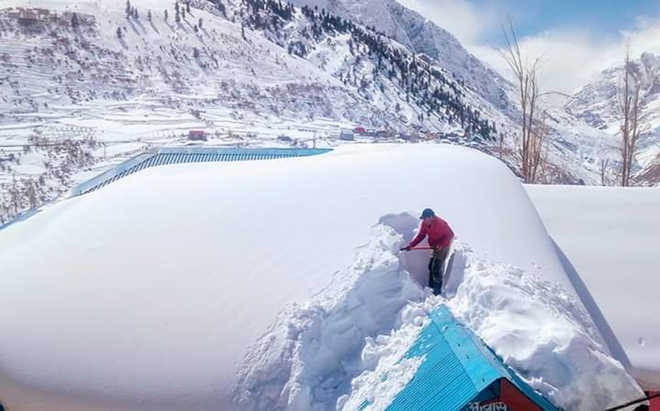 editorial@tribune.com
Dipender Manta
Tribune News Service
Mandi, March 8
The BRO is gearing up to begin snow-clearance operation on the Manali-Leh highway to connect 13,050 feet high Rohtang Pass, gateway to remote Lahaul, with the picturesque valley. As soon as the weather improves, the BRO will start clearing snow from Gulaba towards Lahaul.
The pass was closed to traffic in December last because of heavy snowfall, depriving the residents of Lahaul-Spiti connectivity with the rest of the state for several months. Internal link road of Lahaul Spiti are also blocked. This has paralyzed transportation badly in the district.
Now with the weather improving, the residents of Lahaul have urged the district administration and the BRO to start snow-clearance operation on the Rohtang Pass allowing connectivity between Manali and Keylong. They have urged the Deputy Commissioner Lahaul-Spiti Ashwani Kumar Chaudhari to ask the BRO and the PWD to begin snow-clearance operation within the valley to connect link roads within the district.
Tenzin Gyaccho, a Zila Parishad member in Keylong, told The Tribune, "Due to heavy snowfall this winter, life in Lahaul-Spiti has been badly hit. All internal links roads are blocked, which is giving tough time to the people of the valley. Patients are the worst sufferers because they could not be airlifted out of the valley for medical treatment due to bad weather.
"Now as the weather has improved the people want speedy restoration of roads within the district and outside. It will be of great help to us to move in and out of the district", he added.
The DC Lahaul-Spiti had called a meeting of BRO and PWD officials at Satingri yesterday to discuss the issue. The DC said the BRO was going to start snow clearance operation in a day or two from Satingri toward Tandi and Sissu to connect the road with the Rohtang tunnel in north portal. The tunnel can be used for transportation of tribals between Lahaul and Kullu in emergency cases. Similarly, BRO workforce and machinery is moving from Udaipur ahead toward Kolang.
Colonel Uma Shankar, BRO Commander, 38 BRTF, Manali said, "Snow clearance work on the Manali-Leh highway will start from Gulaba towards Rohtang Pass within one week depending upon the weather conditions. There is warning of snowfall in the coming days and we will observe the situation. As soon as the weather improves we will begin snow-clearance operation".