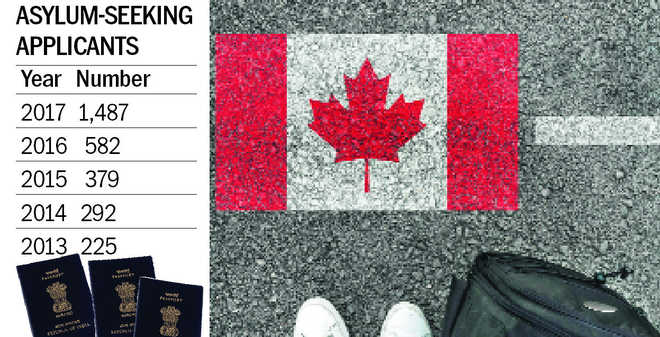 vinaymishra188@gmail.com
Chandigarh, January 9
WHILE the Indian government is seeking to project the country as a rising economic and political power, a report by a Canadian government agency has painted a dim picture of India and stated that various socio-economic and even environmental factors are pushing more and more of its citizens to opt for immigration and seek refugee status in Canada.
The Refugee Claims Analysis Report (RCAR), recently compiled by the Intelligence and Analysis Section of the Canada Border Services Agency (CBSA), has listed the "push factors" that are encouraging a multi-fold increase in immigration and refugee claimants from India into Canada.
The mid-year report of the RCAR stated that 3,10,796 visas were issued to Indian nationals. It pointed out that in the first six months of 2018 (January to June), the number of refugee claims (asylum-seeking applications) shot to 1,805, surpassing the total figure of 1,487 claims made in the entire 2017. The refugee claims made by Indians in the first six months of 2018 were over 310 per cent of the total claims made in 2016, which stood at 582.
"Organised human smuggling: India is a known source, destination and transit country for human trafficking; insurgency; overpopulation; environmental degradation (i.e. dangerous levels of air pollution); extensive poverty; discrimination; widespread corruption; poor infrastructure; drought; increasing religious tensions (i.e. attacks on religious minorities); violence against women and girls (i.e. sexual assault); honour killings; lack of access to sanitation facilities; lack of access to health care; discrimination against the LGBTQ2 community," have been listed as the "push factors" for the sharp increase in immigration and asylum seekers from India.
"The strong and active Indian diaspora in Canada, favorable socio-economic opportunities, family reunification, freedom for LGBTQ2 individuals and strong respect for women's rights" are listed as "pull factors" in the report.
The number of asylum seekers from India, a majority of them Sikhs, has seen a major spurt — by over 300 per cent in the past two years alone — in Canada, with government agencies openly acknowledging "renewed support for (Sikh) separatism in the Punjab region".
Indian nationals made the majority (63 per cent) of their asylum claims at inland offices (1,145), followed by airports (614 claims; 34 per cent). While claims were filed in all CBSA regions, most were filed in the QUE (Quebec) region (1,363), specifically at Montreal Immigration (898), the report has stated.
"A frequent basis of claims cited by Indian nationals is the fear of arbitrary arrest or abuse by the police based on accusations of supporting militant organisations. It should be noted that the vast majority of these claims are filed by Indian Sikhs. Other significant bases of claims include honour killings, political persecution of opposition party supporters and discrimination based on sexual orientation," the report said.
Most claimants were born in Punjab, Haryana, Gujarat and Tamil Nadu.
The report has cautioned Canadian agencies of the high incidence of document fraud being done in India by those seeking to migrate to Canada. "Common document fraud includes altered bio-page, Indian passports or genuine Indian passports with fraudulently obtained, altered or counterfeited temporary resident visas. US Customs and Border Protection reporting indicates that facilitators are coaching persons through the refugee process, a process which is likely being replicated in Canada. Additionally, nationals of India have been known to present themselves as fraudulent family units; couples pose as parents to unrelated minors to facilitate their entry into the US and Canada in human trafficking cases," the RCAR report stated.
While highlighting the Indian human smuggling networks, the report has pointed out that "previous reporting has also indicated the presence of a southbound movement of Indian nationals who use human smugglers to transit Canada to reach the US via the PAC (Pacific) region".
Through 2018, India has maintained its number two rank as a source country for claimants in Canada. Other top source countries include Nigeria, Colombia, Mexico and Romania. — IANS
All readers are invited to post comments responsibly. Any messages with foul language or inciting hatred will be deleted. Comments with all capital letters will also be deleted. Readers are encouraged to flag the comments they feel are inappropriate. The views expressed in the Comments section are of the individuals writing the post. The Tribune does not endorse or support the views in these posts in any manner.