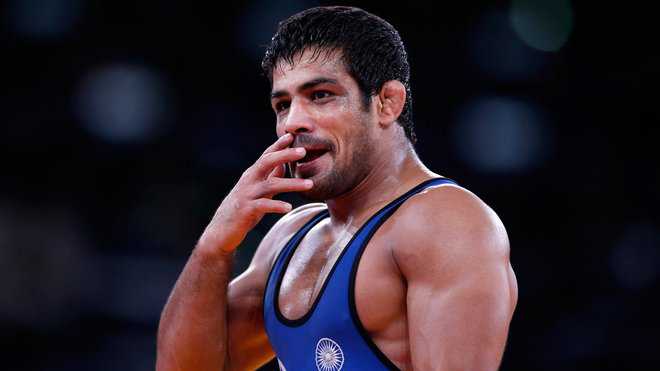 Vinayak Padmadeo
Tribune News Service
New Delhi, May 23
Three of the top wrestlers of the country have written to the Wrestling Federation of India (WFI) to excuse them from the trials for the Asian Games. Two-time Olympics medallist Sushil Kumar (74kg), World Championships medallist Bajrang Punia (65kg) and two-time Commonwealth Games gold winner Vinesh Phogat (56kg) have all written to the federation in this regard.
Strangely, this is a u-turn from Sushil, who had wanted WFI to hold trials before the Rio Olympics, and when refused, he took the federation to court.
WFI has decided to hold the trials for men's freestyle and Greco-Roman on June 10 in Sonepat, while the trials for women will be held in Lucknow on June 17. While the dates may change as WFI has not yet communicated with all its affiliates about the trials, the federation is mulling whether to allow the wrestlers to skip the trials.
"Yes, all three have written letters to the federation requesting us to skip the trials. They think that their training will get affected if they were to take part in the trials," a source close the development said.
"We haven't made up our minds yet. But one thing is sure that we will take all the performances, both past and present, in consideration before taking a definitive call in this regard," he added.
Sushil, who many thought may once again be challenged by his younger Railways counterparts Parveen Rana and Jitender Kumar for a spot in the Asiad squad, has got luck on his side this time. Rana is out for a few weeks as he is nursing a knee injury, while Jitender has been irregular in training.
Wary of litigation
WFI is treading very carefully in this matter. Another source said that the federation was keen to avoid a scenario where an aggrieved wrestler takes it to court for not holding trials.
Sushil had filed a petition against the federation before the 2016 Rio Olympics for not holding trials in the 74kg category. Narsingh Yadav, who is now serving a four-year ban for a doping violation, was the federation's top pick as he had won the quota for the country after winning a bronze medal at the 2015 World Championship. WFI had successfully defended its position in the court then.
In 2014, Amit Dhankar, who was a contender against London Olympics bronze medallist Yogeshwar Dutt in the 65kg division, went to court after WFI chose not hold trials to select the team for the 2014 Commonwealth Games.
Geeta back in camp, Babita still out
WFI has accommodated most of the wrestlers who were kicked out of the national camps for showing indiscipline. WFI president Brij Bhushan Sharan Singh after consultation with chief coaches has allowed many of them to join the camps after they explained reasons and apologised for missing the camps. But Babita Phogat (53kg), Kamini (72kg), Anju (65kg) and Pooja Tomar (62kg) will not be allowed to join the national camp, currently underway in Lucknow, after they failed to explain themselves. Meanwhile, Babita's sisters, Geeta, Ritu and Sangeeta, have been given permission to attend the camps. As reported by The Tribune, Geeta was in Bengaluru nursing an injury, while Ritu and Sangeeta were awaiting visas to train abroad. "All the wrestlers who have been allowed to return have apologised. Some had genuine reasons to stay away so that's why we have given them permission to return," Singh told The Tribune. Ravita (59kg), Nandini Salokhe (62kg) and Manu Tomar (72kg) said they were busy with their examinations. Indu Choudhary (50kg) said she was busy finishing the formalities to join the Uttar Pradesh Police. Shravan (61kg) and Manu (62kg) have also been axed as they are nursing long-term injuries. Satyawart Kadian will also return to the camp after going through rehabilitation in Bengaluru.