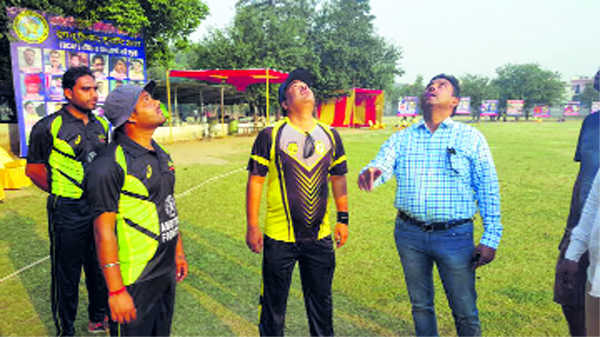 Subhash Rajta
Tribune News Service
Chandigarh, may 20
A cricket tournament with a difference is currently underway in Jalandhar. It's a tournament of the Brahmins, by the Brahmins, for the Brahmins. Each player of the 24 participating teams from Punjab, Haryana, Delhi and Rajasthan, and every member of the organising body — the Bhargav Cricket Association, Punjab (BCAP) — is a Brahmin.
It's rare to see a sport event organised on the basis of caste, colour or religion these days, so one wonders how the only-Brahmins tournament came about.
Come to think of it, cricket used to be played on communal lines in British India. The British, the Hindus, the Muslims and the Parsis competed against each other in the Quadrangular and Pentangular tournaments. And the objective wasn't just to win a match; they sought to establish that theirs was a superior race and religion through a victory on a cricketing field.
Anyway, the idea and purpose behind the Brahmins-only tournament is to keep the youngsters of the community away from drugs by involving them in sport. "Cricket is extremely popular in our community and the youngsters are doing well at different levels. So, it's just another platform for them to perform and move ahead," said Subhash Bhargav, the BCAP chairman.
"Besides, drugs pose a major threat to youngsters these days. So we want to involve them in sport and keep them away from the menace." Bhargav insisted there was no bias or discrimination towards other communities behind organising the tournament exclusively for the Brahmins. "See, everything starts with a person, family or a mohalla. It's just the second edition of the tournament. So, we don't know what shape it may take in the future."
"Besides, he said, our association is already thinking about buying some land and starting a cricket academy for youngsters. It will be open for everyone, and we will also provide financial assistance to the kids coming from the weaker section of society."
Bhargav said that they would soon start a Trust in the name of his son Karan Bhargav, who died last year, and the Trust would help in the sporting activities of the association.
"And mind you, the membership of the Trust would be open to all communities," said Bhargav.