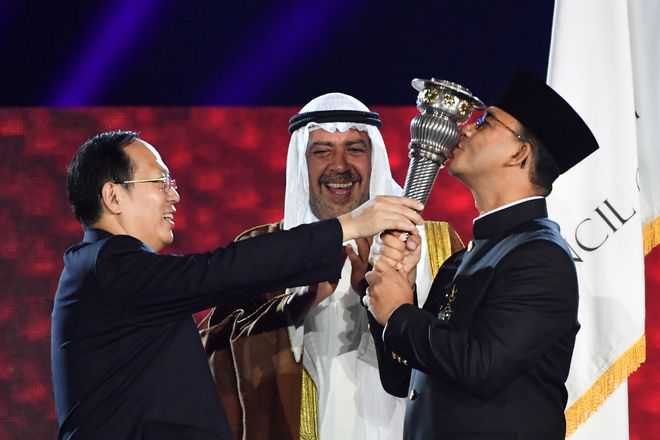 Vinayak Padmadeo
Tribune News Service
Jakarta, September 2
India and other countries that want to host multi-sport events should learn a thing or two from Indonesia.
The Southeast Asian country delivered a successful event and Olympic Council of Asia president Sheikh Ahmad Al-Fahad Al-Sabah, at the closing ceremony, said the country deserved to play host to important sporting events in the future.
Normally the preparation time given to countries from the bidding process to the Games' opening is seven years. But Indonesia had only three years because Vietnam had backed out after winning the bid. Despite the time constraint, Indonesia's organising committee (INASGOC) delivered a successful event. And it was all done on a shoe-string budget and with bare-minimum staff.
INASGOC asked the government $600 million to host the Games, which was roughly the budget of the 2014 Incheon Games. It was slashed to $300 million. After several negotiations, the government increased it to over $350 million.
INASGOC then formulated a plan to get many officials from both the government and private sectors to help out. State-run companies provided sponsorships in kind. Perusahaan Listrik Negara, the government-owned electricity distribution company supplied free electricity to all the venues.
The organising committee also rented several venues, including the JI Expo that played host boxing, table tennis and bridge. Palembang benefited in a trade-off as it had the venue to host shooting and water sports. "The biggest problem was getting the money from the government," said Muhammad Buldansyah, director media and public relations, INASGOC.
Buldansyah said that INASGOC identified venues that could play host to a number of disciplines at a time.
Calling the Games a success, Indonesian President Joko Widodo announced that the country would bid for the 2032 Olympic and Paralympic Games. Widodo announced this after meeting IOC president Thomas Bach.
'They are not ready yet'
But some, such as veteran sports writer for the Associated Press Steve Wade, aren't convinced. "The level of expectations is much lower than what is at the Olympics. They can get away with a lot of slip-ups (in the Asiad)," Wade said. "I have been trying to get a dossier of what's going on at the closing ceremony but nobody can give me that. The ceremony is all in Indonesian so you have no idea what you are watching. Something simple like this would be routine at the Olympics and the World Cup."
"The President is running for office in April… he was the centre of attention at the opening ceremony… Now he says the country would bid for the Olympics. He may or may not do it or the country may not be able to afford it, but it doesn't matter. I think this is a bid to win the re-election," he said.
Top News
A bench comprising Chief Justice DY Chandrachud and Justice ...
It was a follow-up of the seizure of 13 kg heroine
Jagmeet Brar has called a press conference in Chandigarh on ...
The President is on a two-day visit to Haryana