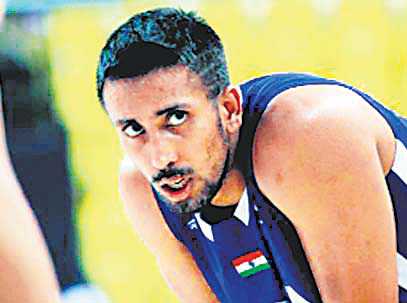 Indervir Grewal
Tribune News Service
Ludhiana, May 14
India players Amjyot Singh and Palpreet Singh, who have featured in the NBA's minor league, are likely to be suspended for one year by the Basketball Federation of India (BFI). Amjyot and Palpreet, both 6ft 9in tall and former trainees of the Ludhiana Basketball Academy, have been found guilty of indiscipline and indulging in factionalism, said a member of the BFI disciplinary committee. The decision was taken by the disciplinary committee, which included interim India coach Rajinder Singh, on the sidelines of the Junior Basketball National Championships here and is likely to be finalised after the approval of top BFI officials.
Palpreet, 24, and Amjyot, 26, were the second and third Indians, respectively, after Satnam Singh to get into the NBA. Both have featured in the NBA G League, which was previously known as the D League. While Palpreet was picked by Long Island Nets in 2016, Amjyot was drafted by Oklahoma City Blue in 2017.
Rajinder, who is the coach of the Ludhiana Basketball Academy and helmed the Punjab boys' team in the junior Nationals, coached the Indian team at the Gold Coast Commonwealth Games.
The disciplinary committee member said that Amjyot and Palpreet disrupted the atmosphere at the national camp in Bengaluru with their indiscipline and attempts at forming factions in the team.
"They did not report for the camp for three days. They were causing trouble at the camp, indulging in groupism and were involved in a physical altercation with another player," said the committee member.
While Palpreet was excluded from the camp and cut from the team roster for the World Cup Qualifiers in February and last month's CWG, Amjyot was part of the team that went to Gold Coast. The committee member said that Amjyot again tried to break up the team into factions in Gold Coast. India lost all their pool matches in the CWG.
Palpreet, who hails from Muktsar Sahib, said that he could not comment on the issue till the suspension was official. Palpreet, an employee with the Railways, was in Ludhiana on Monday. He watched the boys' final of the Nationals before leaving midway. "I cannot say anything right now," said Palpreet, whose contract in the NBA G League expired last year. "I played in Japan last year and am trying to get back to USA," he added.
Amjyot said that he wasn't aware of any suspension order. "I have nothing to say about the charges levelled against me as I am not aware of the suspension order," said Amjyot, who is currently in Chandigarh.
Amjyot has been picked by Oklahoma City Blue again after the NBA G League team had placed his contract on waiver. "I am going later this month," said Amjyot, who also had stints in Japan before his NBA debut.
However, the BFI official said that after being suspended by the national federation, the two will not be eligible to play anywhere, even in NBA.