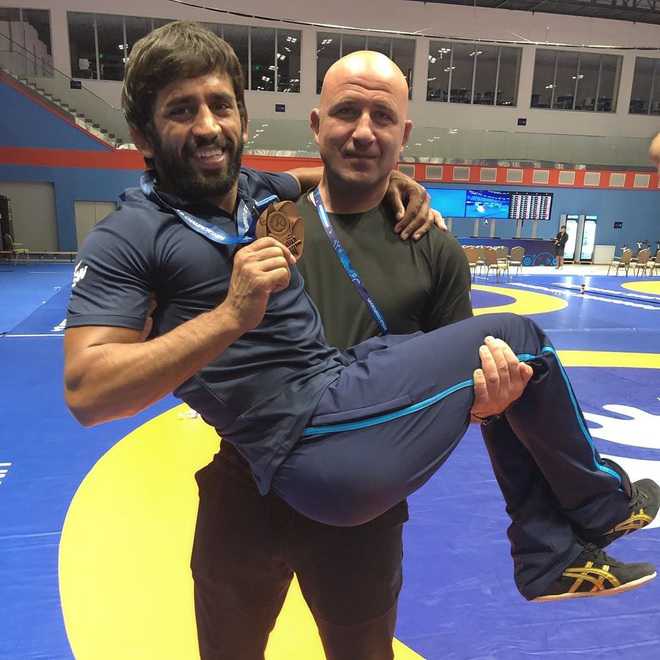 Vinayak Padmadeo
Tribune News Service
New Delhi, October 16
Wrestler Bajrang Punia, India's best bet to win a medal at the 2020 Tokyo Olympics, has parted ways with his longtime coach, Shako Bentinidis of Georgia. With just nine months left for the Olympics to begin, it is hardly the best time for a change of coaches for Punia, the world's No. 1 65kg wrestler. However, the relationship between the wrestler and coach had soured beyond salvaging.
The decision was communicated to Bentinidis, under whom Punia rose to the world No. 1 rank, on Tuesday. It is understood that the Wrestling Federation of India (WFI) president Brij Bhushan Sharan Singh had told Punia that Bentinidis could continue, but that the Georgian must not bad-mouth WFI and not lose his cool in public.
It seems that Punia's corner has already found Bentinidis's replacement. Wilfredo Garcia Quintana was part of the coaching staff under Filiberto Delgado that coaches Italy's Frank Chamizo, a two-time world champion. Quintana's selection is not final as it is understood that Punia is more interested in roping in Soslan Ramonov, who won the 65kg gold at the Rio Olympics. Ramonov has not been active on the mat this year but is said
to be contemplating making a comeback.
Nur-Sultan episode
The fate of Bentinidis had been hanging in the balance since the end of the World Championships in Nur-Sultan last month. At Nur-Sultan, Punia had to settle for bronze after a repechage play-off. He lost in the semifinals after his opponent, Daulet Niyazbekov of Kazakhstan, was declared the winner on the basis of tie-breaker rules after both finished on nine points.
Bentinidis had challenged the judge's decision to hand Niyazbekov four points for a move initiated by Punia. But since the challenge was overruled, Punia had to concede one extra point.
WFI felt that this challenge by Bentinidis cost Punia the semifinal bout and a chance to win gold. WFI, in fact, questioned Bentinidis during an impromptu meeting after the wrestlers returned from Nur-Sultan.
However, this was not the only reason Bentinidis was sacked, according to sources. It is claimed that on multiple occasions, Bentinidis embarrassed both Punia and WFI. In Nur-Sultan, Bentinidis threw a fit of anger in front of the United World Wrestling officials as he had not been given his accreditation card. He had to be calmed down. WFI also received countless complaints against him from the Indian coaches for his "rude outbursts".
Breaking point
But what broke the relationship was that Bentinidis was trying to cut out Punia's friends and reported love interest, Sangeeta Phogat, the youngest of the Phogat sisters, from his corner.
The Bentinidis-Punia relationship began to unravel during Punia's debut at the 'Grapple at the Garden — Beat the Streets' event in New York in May this year. A tired Punia lost 8-10 against American Yianni Diakomihalis. Sources say Bentinidis failed to inform Punia that since it was an exhibition match, he was allowed to be overweight by 3kg in the 65kg category. While Punia did his all to keep to 65kg, Diakomihalis fought with a 3kg-plus weight advantage. Sources say that there was some money trouble, too. They say that Bentinidis took a cut from the appearance money that was offered to Punia, without informing him.