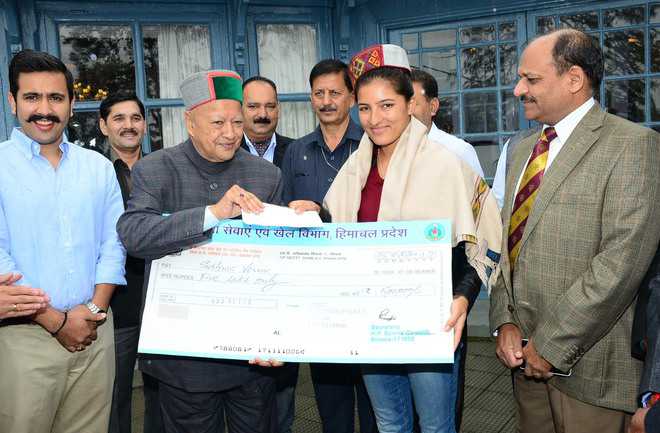 Subhash Rajta
Tribune News Service
chandigarh, august 22
Sushma Verma, a member of the Indian women's cricket team that finished runners-up in the World Cup a month ago, was the talk of the town in Himachal Pradesh a few days ago. The state government, institutions and individuals lapped up her achievement, and the cricketer had to hop from one function to another, organised to honour her. The government, besides offering her a cash award of Rs 5 lakh, also offered her the post of Deputy Superintendent of Police. The young woman deserved all of it, of course.
Incidentally, about three months ago, another girl from Himachal Pradesh shone brightly at the international stage but her achievement went relatively unnoticed, unappreciated and unrewarded. Seema, a sprightly 16-year-old athlete from Chamba, won a bronze medal at the Asian Youth Championship in the 3000m event. Hers is the first international medal won by a Himachali athlete in a track and field event after Suman Rawat won a bronze in the same event at the 1986 Asian Games. That makes both the medal and the athlete pretty special, especially for a state like Himachal where international medallists could be counted on one's fingertips.
Yet, her feat was treated like a routine affair. "A function was held in Chamba, and I was given Rs 21,000 by the deputy collector," said Seema, without any hint of disappointment. KS Patial, her coach at the Sports Authority of India Centre in Dharamsala, where she trains, feels the athlete deserves a lot more. "She's just the second track and field athlete from Himachal to win an international medal. Her achievement could have been highlighted a lot more. If nothing else, it would have inspired many other young girls to take up sports," said Patial. "She has a lot of potential, and she could go a long way with some help at this stage."
It's absolutely fine for the state government to appreciate and reward the achievements of sportspersons like Sushma. But it would be more rewarding and meaningful if the government enters the picture at a stage where Seema is at the moment, rather than making a guest appearance in the end. A little monetary help at a time when a promising athlete is training tirelessly to realise her potential could be the difference between her success and failure. This is especially true for the kids coming from a humble background, as Seema and most other athletes do!
And it's a very small help the athletes at this stage demand. "Whenever we travel for state and national tournaments, we end up spending Rs 6,000 to 7,000 from our own pockets," said Seema. "If this could be taken care of, it would take a lot of burden off our shoulders."
Patial feels that to give promising junior athletes the best chance to succeed at the senior level, the state governments should start a scheme on the lines of the central government's TOPS, under which the Sports Ministry supports those athletes who have the best chance of winning a medal in the Olympics. "We can identify a bunch of promising athletes and then support them with a scheme like TOPS. It would help the kids at a time when they need it the most, and would enhance their chance of winning medals at the international stage," said Patial.
Some food for thought for the authorities!