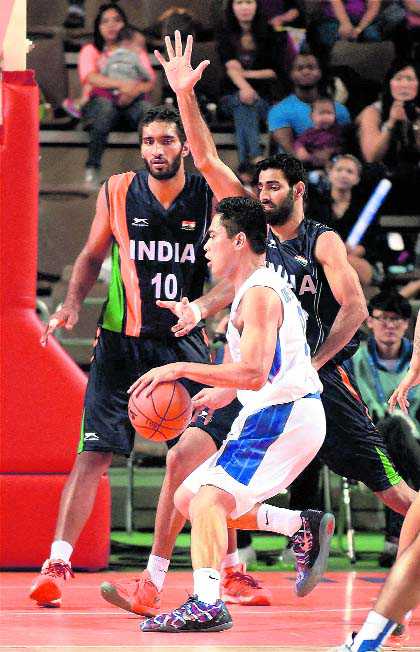 Tribune News Service
chandigarh, february 3
The international basketball association (FIBA) has initiated a rule change process that will eventually allow Sikh players to participate in international matches while wearing turbans. The rule to ban headgear in the sport was enacted 20 years ago over "safety reasons", according to FIBA — in case headgear such as a turban came off and someone's limbs got caught in it, for example.
In 2014, the Sikh players in the Indian team were not allowed to take the field with their turbans on at the Asia Cup in Wuhan. Star players Amritpal Singh and Amjyot Singh had to remove their turbans before they could play against Japan. The two had taken part in several FIBA tournaments prior to that and this issue had never cropped up. However, the organisers of the Wuhan tournament decided to invoke the no-headgear ban at the tournament.
Due to this unpleasant experience, Amritpal and Amjyot decided to get their hair cut, in order to avoid a similar situation at the Incheon Asian Games the same year. "Of course, it was not a good feeling to get my hair cut for this reason," Amritpal had said then. "But then, it had come to a point where I had to take a call. After all, it was a matter of continuing playing basketball or not. What else could I have done?"
Change of rule
In September 2014 itself, due to the furore and complaints it had received, FIBA started a process to change its headgear rule. It also commissioned a report on the impact of exceptions allowed to this rule in domestic tournaments. On the basis of this report, FIBA has decided to modify the rule. "After initiating a revision process of the headgear rule (Article 4.4.2) of the Official Basketball Rules in September 2014, the Board received a report on the impact of the exceptions applied on a domestic level during a two-year period," a FIBA press statement said. "It (the board) favoured a modification of the rule and issued a mandate for the Technical Commission to come forward with a proposal that would allow headgear to be worn safely by athletes. This will be presented to the Mid-Term Congress in May." This means that in May, the rule is almost certain to be removed.
Good move
Two US lawmakers who had spoken against this rule in the past have hailed FIBA's move. "We're thrilled that the (FIBA) board has endorsed a change that, if adopted, will let Sikhs and other athletes who wear articles of faith and play," said Joe Crowley, chairman of the Democratic Caucus, and Ami Bera, co-chair of the House Caucus on India and Indian-Americans, in a joint statement.
"While it should have never taken this long for the board to endorse this change, we're glad that FIBA is moving ahead. There is no evidence that turbans or religious headgear pose a threat to players, and FIBA's policy has not only been outdated, but discriminatory," they said. "We're glad FIBA is moving in the right direction and we look forward to a final change soon."
— With agency inputs