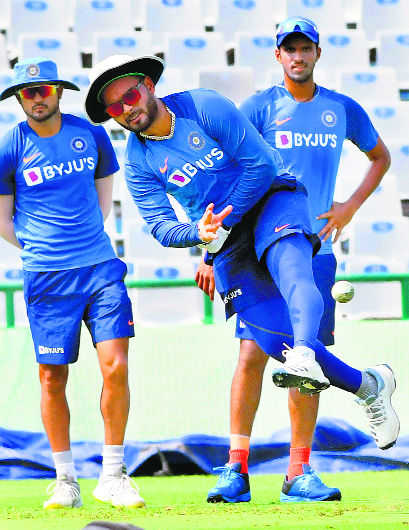 Gaurav Kanthwal
|Tribune News Service
Mohali, September 17
They are neither callow nor seasoned, but they have been tasked to tread a thin rope between playing fearless cricket and careless cricket. Cementing their place in the playing XI, however, will be their top priority. The Indian middle order — Shreyas Iyer, Manish Pandey and Rishabh Pant — is facing a peculiar dilemma. Iyer has to prove himself, Pandey has got one more chance to resurrect his career and Pant has to mend his ways, yet maintain his macho image.
"At times, we overemphasise on technique. It is more about the mindset at this level, getting your gameplan right. As far as Rishabh is concerned, he is a phenomenal player, he just needs to sort out his gameplan, needs to bring in a little bit of discipline in his cricket," India's batting coach Vikram Rathour said on eve the second T20 against South Africa.
"All the young players need to understand that there is a fine line between fearless cricket and careless cricket. What the team management is asking from them is fearless cricket, having clear gameplans and playing with intent but at the same time, you can't be careless. I am sure they are smart enough to understand that," he said.
2020 Vision
With India showing their intent to dominate in the T20 format, there is a need to present a new-look team for the World T20 in Australia next year. The team management has made its expectations known to the batsmen. The top-order needs to turbo-charge itself, the middle-order will only be manned by personnel who can up the ante from the word go, and the tail has to not just chip in but make valuable contributions.
Rathour, specifically asked about the leeway the newcomers are going to get in their endeavour to fit in the team, said there is specific number of matches a player is going to get. "They (Kohli and head coach Ravi Shastri) have said five matches but it is not going to be a specific number. What they meant was that you need to grab your opportunities when you get them. They have played so much of cricket. They have come through after doing so well. I don't think it is a massive issue. The team will be backing them fully," he explained.
Onus on coaches
While it is tough on the players, it will be not easy for the coaches too. Rathour's stint as India's batting coach will be judged by how well he guides these youngsters to come out of this tricky situation. On a specific query about Pant, who has been blowing hot and cold even after 41 international matches (11 Tests, 12 ODIs and 18 T20Is), Rathour said, "We want him to play all his shots. That is what makes him special, he is an impact player but at the same time you can't be careless."
Rohit too good to be out of any team
Vikram Rathour was effusive in his praise of Rohit Sharma and fully endorsed his inclusion in India's Test squad. The ODI vice-captain has played 27 Tests for India at four different positions (No. 3, 4, 5 and 6) but never quite managed to cement his place in the team. "I think he is too good a player to not be playing in any team," Rathour said. "Everybody in the side echoes this opinion. He is a wonderful opening batsman in the limited-overs format, so there is no reason why he cannot be successful in Test matches. If he gets his gameplan right, he can be a great asset to the team."
Top Stories