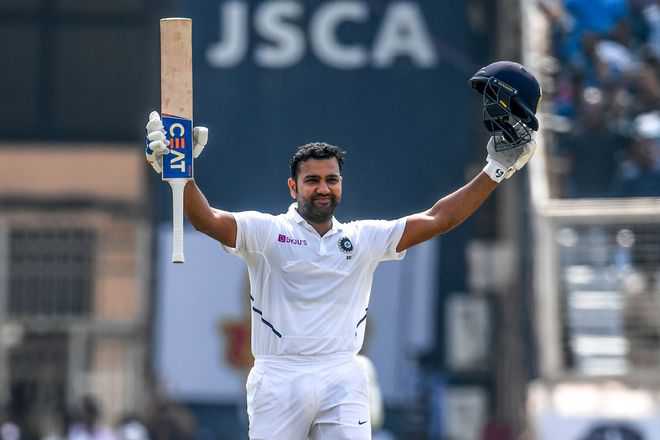 Ranchi, October 20
Rohit Sharma powered India with his maiden Test double hundred before the home pacers dented the already-scarred South Africa top-order to gain complete control of the third and final Test.
The stylish Rohit smashed 212 off 258 balls in the company of vice-captain Ajinkya Rahane, who made a fine 115, enabling India to declare at 497/9 on Day 2. Before bad light stopped play, South Africa were reduced to 9/2 in five overs. Mohammed Shami and Umesh Yadav removed Dean Elgar (0) and Quinton de Kock (4), respectively, in their single over bursts.
Rohit, who had made 176, 127 and 14 in his three previous innings in the series, firmed his position at the top with his first 200, hitting 28 boundaries and six sixers. His languid grace stood out through his innings, though sadly, yet again there was only a sparse crowd at the ground to witness his skills.
Having gone to lunch on 199 today, Rohit reached his 200 in style with a six, despatching an express delivery from Lungi Ngidi into the stand behind midwicket boundary with a front-foot pull. Two balls later, as if to taunt the pacer, Rohit repeated the shot with the same result. Next over, going for quick runs, Rohit was dismissed when he was caught at the fine-leg boundary by Ngidi off Kagiso Rabada.
Solid Rahane
At the other end, Rahane looked solid as he compiled his 11th Test hundred, the first in India in three years. Rohit and Rahane added 267 runs for the fourth wicket to set a solid platform before Ravindra Jadeja (51 off 119 balls) and Umesh Yadav (31 off 10 balls with five sixers) provided the final impetus to the innings.
Except for Rabada (3/85), the South African attack lacked penetration, which has been the real problem for the visitors through the series. In four innings, India have had three double centurions — Mayank Agarwal, Virat Kohli and Rohit — which tells the story of South Africa's ineffective bowling. Debutant left-arm spinner George Linde (4/133) was the most successful bowler for South Africa, though Yadav took him to the cleaners, hitting him for all his five sixers.
Fiery quicks
When South Africa batted under fading light, the Indian pacers were too hot to handle. Shami struck with his second delivery as Elgar tried to leave the rising ball late but it kissed his gloves en route to Wriddhiman Saha behind the stumps. Yadav removed de Kock with a brilliant bouncer, the batsman failing to keep the ball down as he tried to fend it off. With a relatively early sunset and fading light in this part of the world, India's bowlers would be keen to take advantage of the pitch, on which cracks are beginning to open, and end the South African innings as soon as possible. — PTI
Scoreboard
INDIA 1st inn (Overnight 224/3)
M Agarwal c Elgar b Rabada 10
R Sharma c Ngidi b Rabada 212
C Pujara lbw b Rabada 0
V Kohli lbw b Nortje 12
A Rahane c Klaasen b Linde 115
R Jadeja c Klaasen b Linde 51
W Saha b Linde 24
R Ashwin st Klaasen b Piedt 14
U Yadav c Klaasen b Linde 31
S Nadeem not out 1
M Shami not out 10
Extras: (b 10, lb 6, nb 1) 17
Total: (9 wkts decl, 116.3 overs) 497
Fall of wickets: 1-12, 2-16, 3-39, 4-306, 5-370, 6-417, 7-450, 8-464, 9-482
Bowling
Kagiso Rabada 23-7-85-3
Lungi Ngidi 20-5-83-0
Anrich Nortje 24.3-5-79-1
George Linde 31-2-133-4
Dane Piedt 18-3-101-1
S Africa 1st innings
D Elgar c Saha b Shami 0
Q de Kock c Saha b Yadav 4
Z Hamza not out 0
F du Plessis not out 1
Extras: (b 4) 4
Total: (For 2 wickets, 5 overs) 9
Fall of wickets: 1-4, 2-8
Bowling
Mohammed Shami 1-1-0-1
Umesh Yadav 1-0-4-1
Shahbaz Nadeem 2-2-0-0
Ravindra Jadeja 1-0-1-0