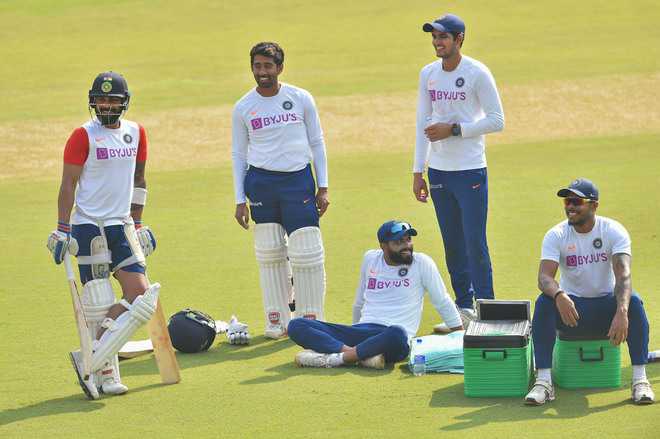 Indore, November 13
The first Test between India and Bangladesh will be played with the red ball from tomorrow, but the focus is firmly on the pink ball as the formidable hosts look to overpower the depleted Bangladesh in the two-match series.
The pink ball will be used in only the second Test in Kolkata under lights, but the buzz and talk have consistently centred on that match, not the first Test here.
Virat Kohli's men, on top of the World Test Championship points table, are expected to steamroll the rag-tag opposition inside four days. In fact, on paper, it is difficult to imagine how Bangladesh — without top stars Tamim Iqbal and Shakib Al Hasan — would be able to compete in their weakest format till date.
Having crushed South Africa in their last series, India, with inarguably their greatest-ever pace unit, should be too hot to handle for a side whose best batsman — skipper Mominul Haque — has less than 10 Test hundreds (eight). Wicketkeeper-batsman Mushfiqur Rahim is experienced and Mahmudullah Riyad is a very talented allrounder, but the two aren't exactly formidable names in Tests.
Indian biggies
Compared to that, India's three premier batsmen have 55 Test hundreds to their name —Kohli (26 hundreds), Ajinkya Rahane (11), Cheteshwar Pujara (18) should pose a massive challenge to the bowling line-up of Mustafizur Rahman, Taijul Islam and Mehidy Hasan Miraj.
And before these three come into play, Bangladesh will have to deal with openers Mayank Agarwal and Rohit Sharma, who have been in top form. Add to it India's bowling unit with 800-plus wickets, and this seems a contest in which 'David' looks incapable of slaying 'Goliath'.
Not to forget that Bangladesh, in their last Test match under Shakib's leadership, lost to Afghanistan in a one-off game at home. Shakib was banned on the eve of the tour of India for failing to report corrupt approaches by bookies.
Respect Bangla: Rahane
The visitors are weak, but the Indians are not taking anything for granted. "Bangladesh is a very good team. We played very well against South Africa but that's past now. With Test Championship, every match is equally important. We like to take one game at a time which is Indore now," vice-captain Rahane said. "We completely respect the Bangladesh team and we are going to play to our strength rather than thinking about theirs." — PTI
Ishant likely to play
The track at the Holkar Stadium has always been a batting paradise with ridiculously short side boundaries but there is bounce on offer. Mohammed Shami and Umesh Yadav are certainties in the pace line-up while Ravindra Jadeja and Ravichandran Ashwin are expected to make the squad. Kohli indicated that Ishant Sharma will be playing as the third seamer. "Yeah that seems pretty likely, looking at the pitch. Also because of the way Umesh has bowled, Shami obviously has been brilliant. Bumrah isn't fit yet," Kohli said. "Ishant has probably been our most consistent bowler in the last two years and a big big reason for our success in Test cricket is his ability to just keep bowling in the same area and the others come and pick up wickets. But also he has picked up 4-5 wickets on many occasions when he's gone through a great spell. So I think his experience will always be handy for the team."
Captaincy will not affect my batting: Mominul
He is new to captaincy but Bangladesh skipper Mominul Haque is confident that the added responsibility will not affect his batting. The 28-year-old Haque has replaced Shakib Al Hasan. "I am not feeling any pressure. The way I batted before captaincy, I will bat in the same way now," said the left-hander who has scored eight hundreds in 36 Tests. "There are a few positives in being captain as well. Your knowledge about the game increases. You tend to become more responsible as a player. So I think it will help me improve my performance," he added. PTI
'Interesting to see how old pink ball behaves with dew around'
The pink ball swings more than the red one but how would it behave after getting old, especially when dew will be a factor, is keeping India skipper Virat Kohli intrigued ahead. Kohli, on the eve of the series-opener, was busy answering questions related to the second Test starting November 22. "I think it's a new way to bring excitement to Test cricket," Kohli said. "The pink ball I played yesterday, I felt it swings a lot more as compared to the red ball because there's extra lacquer (coat of paint) which doesn't go away too fast. And the seam holds upright quite a bit. I don't know how the old ball behaves because with the dew and the lacquer going off, it will be interesting to see how much the old ball does," the skipper said. PTI
26 wins for India in 32 Test matches at home since the start of 2013. There have been five draws and one defeat
3 Test matches in a row Bangladesh have lost coming into this Test. India have won their last five
1 Test match the Holkar Stadium has hosted so far, in 2016. India beat New Zealand by 321 runs
25 runs Rahane needs to reach the 4000-run mark in Test cricket
3 dismissals Wriddhiman Saha (86 catches, 11 stumpings) needs to reach the 100 mark in Test cricket. MS Dhoni (294), Syed Kirmani (198), Kiran More (130) and Nayan Mongia (107) are the only India keepers with 100 or more dismissals
They are used to playing in similar conditions so we definitely think that they will know their game plan and what they need to do. We'll have to play well to get a result, like we have in the past. Virat Kohli, India Captain
We are not under any pressure. We all know there isn't much expectation from this series. We are not taking pressure. We will try to play good cricket. Mominul Haque, Bangladesh Captain