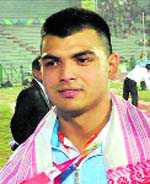 Karam Prakash
Chandigarh, July 9
Neeraj Chopra, the new hope on the Indian javelin-throwing scene, will try his luck to qualify for the Rio de Janeiro Olympics in his last qualifying tournament in Germany tomorrow.
Chopra has been in Europe since May on a competition-cum-training stint with Australian coach Garry Calvert. In his last competition, the Flanders Cup in Lokeren (Belgium) on July 3, Chopra finished first with a throw of 78.71m while his compatriot Shivpal finished second with an effort of 75.67m. Chopra, though, needs to hit the qualification standard of 83m to make it to Rio.
He had raised hopes in February with a remarkable throw of 82.23m in the 12th South Asian Games in Guwahati, missing the qualification standard of 83m by a whisker. That effort, though, was good enough for him to equal the national record, and also helped him finish with the top position on the U-20 International Association of Athletics Federation (IAAF) list.
Chopra, who hails from village Khandra in Haryana's Panipat district, trained in Panchkula for three years before joining the national camp in Patiala in March 2015. "He is trying very hard and rushing his throw, so I am thinking he is in his competitive feel right now," said Calvert. "He is in top form and peaking at the right time."
Calvert also said that Chopra had been throwing quite well in training, but added that he had to break the national record to qualify for Rio. Chopra has crossed the 79m mark thrice in competitions in Europe and is very close to making the cut for Rio, Calvert said.
The conditions in Europe, said Calvert, have been quite difficult. "We had our first competition in 6°C, and it was 12°C in the next competition, which is a huge drop from 45°C in India, but still his performances have been very satisfying so far," Calvert said.
Calvert added that Chopra had been lucky that he has remained free from injury for a long time, though in general javelin throwers are prone to injuries. The coach said the last time Chopra was in big discomfort was at the All-India Inter-University meet in January last year, though he'd won gold there with an effort of 81.04m.
According to the Australian coach, the stint in Europe has been a new experience for the Indian javelin throwers, and added that they are on the verge of a "halcyon period".
"I have been trying really hard since the last two months and I am hoping to break my personal best of 82.23m in the last qualifying tournament," Chopra said.
The rest of the Indian athletes will try to qualify for Rio at the last opportunity, at the 3rd and 4th Indian Grand Prix in Bengaluru on July 10 and 11. This would be the last chance for India's track and field athletes to make it to Rio as July 11 is the cut-off date to qualify for the Olympics.
Top News
Congress has 108 MLAs in 200-member Assembly, of which 82 lo...
Rajasthan is one of the only two states where Congress is in...
'No hand in crisis but doors not closed for Sachin Pilot', s...
The water flow above 2.5 lakh cusecs is considered high floo...
Day-long session is likely to be a stormy one with oppositio...