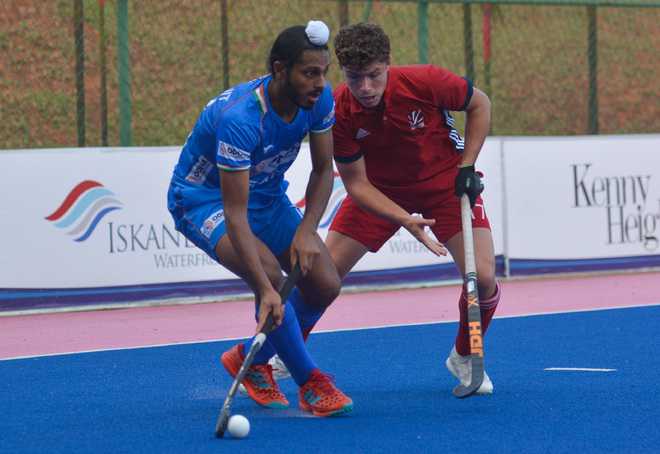 Johor Bahru, October 18
The Indian junior men's hockey team and Britain played out an entertaining 3-3 draw in their final round-robin match of the ninth Sultan of Johor Cup.
In a cagey first quarter, India won the first penalty corner of the game in the 11th minute but it was Britain who scored the first goal of the match through a penalty corner in the 27th minute, Ioan Wall's dragflick giving Britain the breakthrough. India went into half-time trailing 0-1. Britain doubled their advantage in the 23nd minute via an Andrew McConnell's goal. Despite India's multiple circle penetrations and constant attacks, a goal eluded them.
Finding touch
Three minutes into the third quarter, Mandeep Mor grabbed possession on the right and directed a superb pass to find Shilanand Lakra inside the circle. Lakra's superb touch and finish brought the margin down to one. With momentum on their side, India pushed for an equaliser and soon they had one. After a succession of penalty corners, each of which put Britain under more pressure, Mor finally breached the defence to score the equaliser in the 51st minute.
In the 57th minute, India were awarded a penalty stroke after Dilpreet Singh was brought down in the circle. Sharda Nand Tiwari made no mistake from the spot to give India the lead. However, Britain managed to find the equaliser in the 59th minute when Matthew Renshaw scored off a penalty corner.
The two teams will meet again in the final on Saturday. — PTI